People with learning disabilities over-prescribed psychiatric drugs
Public Health England study finds people with learning disabilities are regularly prescribed psychiatric drugs without a recorded diagnosis.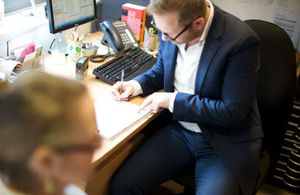 A new study by Public Health England (PHE) finds 1 in 6 adults with a learning disability is being prescribed anti-psychotic drugs by their GP that are normally used to treat major mental illnesses. Over half of these adults do not have a recorded diagnosis of a condition they are designed to treat.
The report 'Prescribing of psychotropic drugs to people with learning disabilities and/or autism by general practitioners in England' was completed in collaboration with researchers at the Clinical Practice Research Datalink (CPRD). It sits within a programme of work led by NHS England which aims to tackle the over-prescribing of antipsychotic and other psychiatric drugs to people with learning disabilities.
The report reveals that:
17% of adults with a learning disability known to their GP were being prescribed an antipsychotic
over half (58.1%) did not have a diagnosis in their GP record of a condition which they are designed to treat, including psychosis, bipolar disorder, depression and anxiety
at any time, between 30,000 and 35,000 people with learning disabilities are prescribed an antipsychotic, an antidepressant or both by their GP without having the conditions for which the drugs were designed to treat and have been shown to be effective (this is 1 in every 6 people known to their GP as having a learning disability)
Gyles Glover, consultant in public health and co-director of the learning disabilities team in PHE said:
Psychiatric drugs are often given to people with learning disabilities to try and manage challenging behaviour. These drugs have important side effects, but the evidence that they are effective is limited.

Services are overstretched and care is demanding, so we understand how the use of these drugs can be considered normal or necessary. However, the report, which is the first of its kind, suggests that psychiatric drugs are used more widely than is appropriate and this comes with risk. It is crucial that we build our evidence of what drugs are being used to manage behaviour and how often to support and guide a change in practice.

I very much welcome the initiative by NHS England to address this issue.
Background
About the study: the study focused on prescriptions and diagnosis records from general practitioners for people with learning disabilities who were not currently in hospital, between April 2009 and March 2012.
Read the full report.
NHS England has written a letter to professionals and patients, urging the review of prescriptions, and has promised to spearhead a 'call to action'. Their media release can be found on the NHS England website.
Public Health England exists to protect and improve the nation's health and wellbeing, and reduce health inequalities. It does this through world-class science, knowledge and intelligence, advocacy, partnerships and the delivery of specialist public health services. PHE is an operationally autonomous executive agency of the Department of Health. www.gov.uk/phe. Follow us on Twitter: @PHE_uk or Facebook: www.facebook.com/PublicHealthEngland.
Published 14 July 2015