Press release
People will see health and social care fully joined-up by 2018
Coordination will see better care and support, fewer people falling through the cracks and a drop in patients needlessly stuck in hospitals.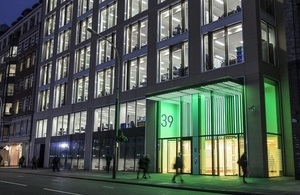 An end to people passed around the health and social care system thanks to uncoordinated services will follow plans unveiled by Care and Support Minister Norman Lamb today.
Joined-up health and community care is not currently the norm, leaving people often getting disjointed care and support, not designed to suit their needs. In a recent study, 32 per cent of bereaved people said hospitals did not work well with GPs and other services.
Now the biggest ever commitment to making coordinated health and care a reality has been launched. Government and key players in the health and care field have published plans that will see them working together to put people first.
The plans, which will be delivered by national leaders and local areas working closely together, include:
An ambition to make joined-up and coordinated health and care the norm by 2018 – with projects in every part of the country by 2015;

The first ever agreed definition of what people say good integrated care and support looks and feels like - this work by National Voices gives areas a clear vision to work towards;

New "pioneer" areas around the country appointed by September 2013 – they will be selected by a panel of experts, both national and international, who will be looking for the innovative, practical approaches needed to achieve change as quickly as possible; and

New measures of people's experience of joined up care and support by the end of this year so we can start to see whether people are feeling the benefits of the change.
Currently, people often fall through the cracks between the NHS and care and support provided in the community. Issues include:
people having to re-tell their story every time they encounter a new service;

people not getting the support they need because different parts of the system don't talk to each other or share appropriate information and notes;

older people discharged from hospital to homes not adapted to their needs, only to deteriorate or fall and end up back in A&E – cutting emergency readmissions will bring a much better experience for patients;

home visits from health or care workers at different times, with no effort to fit in with people's requirements; and

patients facing long waits in hospital before being discharged in part because of inadequate coordination between hospital and social care staff. Delayed discharges cost the NHS £370million a year.
Care and Support Minister Norman Lamb said:
People don't want health care or social care, they just want the best care. This is a vital step in creating a truly joined up system that puts people first.
Unless we change the way we work, the NHS and care system is heading for a crisis.
This national commitment to working together is an important moment in ensuring we have a system which is fit for the future.
A more integrated health and care system will bring benefits to many people – better joined up care and support means a real difference to older people, those with long-term conditions like diabetes and to carers supporting their loved ones.
But good coordination could also bring efficiency and financial benefits. A recent study suggests that improved integration could save billions of pounds to the health and social care system over a five year period, if implemented effectively. But more work is needed to establish the potential for savings with more certainty.
National commitment to support local improvement
Today's announcement sees the publication of the first ever system-wide "Shared Commitment", which demonstrates how the national leaders of the health and care system have come together to help local areas make integration happen.
It includes ten commitments which every organisation has signed up to deliver, including: outlining how national resources will support local work; promises to ensure tools are available to help; details of how information will be used to enable integration; and plans to accelerate learning across the system.
The document lays out how local areas should use existing structures like Health and Wellbeing Boards to bring together local authorities, the NHS, social care providers, education, housing services, public health and others to bring about better integration of local services.
Clinical commissioning groups set aside two per cent of their annual funding for non-recurrent expenditure; we encourage them to consider using this to support innovative approaches to integrated care and support.
Sir Merrick Cockell, Chair of the Local Government Association, said:
As the providers of social care and now public health, councils have a key role to play in integrating services to both improve the quality of care and support that people receive and help find new ways of addressing the long-standing concerns around the future funding of care services.
In order to achieve this we absolutely need to put real people of all ages, from children and young people to those with long term and multiple conditions, at the heart of everything we do. It is their voices and experiences that can help us create the person-centred services urgently needed to revolutionise care in this country.
Health and Wellbeing Boards, as the core local decision makers across health and care, are crucial to this process and can provide a platform to ensure that public money is used effectively across the NHS and local government to tackle the wider health needs of our communities.
A single vision
Explaining what integration means to people, developed from work by National Voices in partnership with people with experience of the system, shows what good person-centred coordinated care and support looks and feels like.
Using a series of "I" statements designed to make it clear how people expect to be treated and supported, it complements the Making it Real initiative, which aims to make local community services more personalised.
Pioneers leading the way
Our commitment to work together is backed by a call for areas wanting to lead the way and become a "pioneer". We are inviting expressions of interest to be submitted by the end of June. A panel of national and international experts will consider the most innovative, to be confirmed as pioneers in September.
To boost existing support, the pioneers will be helped by the central Integrated Care and Support Exchange (ICASE) team, which the national partners are putting in place. This jointly resourced team of experts will support and advise the pioneers, as well as other areas, on overcoming barriers and achieving our shared ambitions.
In return, pioneers will be expected to share and promote their experiences and ideas with the rest of the country, who will also be expected to work towards improving integration at the same time as the pioneers.
We anticipate further pioneers stepping forward over the next three years.
New measures of success
To track whether coordinated care and support meets the needs of people, new ways of measuring people's experiences will be developed by the end of the year.
As we roll these out across the country, we will work with areas to test whether people are getting the benefits that coordinated health and care services should deliver.
Notes to editors
Partners involved in this initiative include: ADASS; ADCS; CQC; Department of Health; LGA; Monitor; NHS England; NHS Improving Quality; Health Education England; NICE; PHE; SCIE; and TLAP in association with National Voices. We commit to doing all that we can to support local areas in making integrated care and support the norm. Other organisations, such as the NHS Confederation, SOLACE and the Care Provider Alliance, are already coming forward to support this initiative. We encourage others to do the same.
Key research:
Through the recently established "Voices" survey, 14 per cent of responding carers of recently deceased people reported "No" to the statement "Community services worked well together" to deliver end of life care. And 32% reported "No" to the statement "Hospital services worked well together with GP and other services outside hospital".(1)

Although people aged 75 or older account for only around 8 per cent of the population, they account for around 28 per cent of NHS expenditure.(2)

A recent NAO evaluation of "whole place" community budgets estimated that the integration interventions being piloted could, if rolled out nationally, generate savings of between £2.8bn and £5.0bn to the health and social care system.(3) (4) This estimate was based on assumptions in business plans rather than delivered savings, and extrapolated from only four areas. Whilst this is a broad estimate of the savings that might be associated with better integrated care and support, more detailed work will be needed to inform realistic assessments, based on more comprehensive evidence, over the next few years.

When charity coalition, National Voices, asked its members what patients, service users and carers most wanted to see from the reforms, coordinated care was at the top of the list.
Details of the Making it Real initiative can be found here.
For more information, contact the Department of Health press office on 020 7210 5222.
Partner Quotes
Public Health England's Chief Executive, Duncan Selbie said:
Public Health England welcomes and supports local innovations to find alternatives to hospital-based care, especially for the frail elderly. It is one of our priorities to work with national partners to identify and share best practice on the contribution of prevention and early intervention to person-centred care and we will be working with local areas which are pioneering innovative approaches to integrating health and social care to tackle the barriers to progress.
Dr Sam Bennett, Director of Think Local Act Personal, the Partnership taking forward work on personalised care and support, says:
We welcome this important collaboration. Through our shared commitment we will support the focus on joining up services at the level of the individual, particularly through the close alignment of the Narrative with our Making it Real initiative. This provides the opportunity to join up two important agendas, so that efforts to realise integrated care and support will also ensure that support is personalised and enables greater choice and control across the system. The work of TLAP's National Co-production Advisory Group has been critical in creating this alignment and ensuring this work is grounded in the lived experiences of people who use services, carers and families.
ADASS President Sandie Keene pledged the Association's "full and wholehearted" support for the objectives and outcomes illustrated in these documents. She said:
Never before has there been such a clear green light for all those seeking to drive health and social care integration closer in a direction which so clearly benefits everyone in our communities who use our services. It is now up to leaders in those communities to make sure the vision is made real.
(1) DH. First national VOICES survey of bereaved people: key findings report. 2012
(2) HCHS Expenditure 2008/9 – analysis to inform DH PCT resource allocation formula
(3) Case study on integration: Measuring the costs and benefits of Whole-Place Community Budgets. NAO, March 2013
(4) Case study on integration: A review of the potential for Integration. Ernst and Young, Jan 2013.
Published 14 May 2013