People still eligible for mpox vaccine urged to come forward
Sustained reduction in case numbers means targeted vaccine programme is no longer needed and can be wound down in the summer.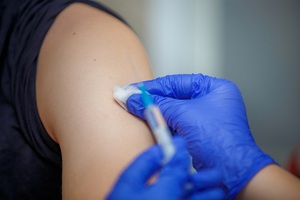 A sustained reduction in mpox (monkeypox) case numbers across England and the success of vaccination in helping to control the outbreak means the vaccination programme is no longer needed as an outbreak control measure and can now be wound down. Anyone eligible for mpox vaccination is urged to come forward for the vaccine in the coming months to protect themselves before the summer.
First doses remain available for gay, bisexual and men who have sex with men (GBMSM) at highest risk from mpox until 16 June with second doses available until the end of July.
The UK Health Security Agency (UKHSA) will continue to closely monitor case numbers and will retain the ability to stand up the vaccination programme if the risk of infection rises significantly.
Mpox cases have fallen across the UK from a high of 350 per week in July 2022 to just 6 new cases so far from the start of 2023. Three people acquired mpox in the UK and 3 were returning travellers.
Vaccination has played a crucial role in protecting people and reducing case numbers. People who are eligible but have not yet received 2 doses of the vaccine are being encouraged to come forward and book their first dose by 16 June 2023 and be booked in for their second dose by the end of July 2023.
Everyone at highest risk from mpox is eligible for 2 doses of the vaccine; UKHSA data has shown that one dose of the vaccine offers 78% protection against the virus from 14 days after receiving it, and the second dose aims to provides longer term protection.
Dr Gayatri Amirthalingam, Deputy Director, Public Health Programmes at UKHSA, said:
While mpox infection is mild for many, it can cause severe symptoms for some so it's important people remain alert to the risks. Vaccination is key to reducing the severity of symptoms and preventing further transmission. Uptake of first doses has been strong but only around a third of those who have received their first dose have had their second dose so far.

I would urge everyone that's eligible to come forward for both doses so they have maximum long lasting protection.

I'd like to thank the NHS, public health professionals and third sector organisations, in particular their frontline staff, who sprang into action and worked hard to bring down mpox cases significantly. UKHSA will monitor cases of mpox very closely and will re-establish the vaccination programme if we need to.
The mpox vaccination programme was introduced in June 2022 in response to the outbreak and this approach was endorsed by the Joint Committee on Vaccination and Immunisation (JCVI). In England, 67,898 people have received their first dose of the vaccine and 26,619 people their second dose, since the programme began.
While the targeted vaccination programme is being wound down with the outbreak now controlled, vaccines will continue to be offered to some groups at higher risk of mpox. This includes healthcare workers who are or will be caring for a patient with mpox and some staff in sexual health clinics assessing suspected cases. Family or other close contacts of someone with mpox who are at highest risk of severe illness will also continue to be offered vaccination, including children aged under 5 years, immunosuppressed individuals, and pregnant women.
The UK was the first in the world to detect the outbreak, acting immediately to alert global health partners, control further transmission and secure vaccines for all those at highest risk in the UK. The government remains committed to sustaining reduced transmission of mpox and achieving the ultimate goal of eliminating transmission of the disease in the UK.
Health and Social Care Secretary, Steve Barclay, said:
It's really positive to see the numbers of mpox cases continuing to decline, these results prove that our targeted approach to vaccination rollout has had real impact.

With thanks to our healthcare professionals and frontline workers for administering vaccinations our initiative has been effective in protecting those people most at risk against this debilitating disease.

While mpox cases have fallen, I urge anyone who is eligible for vaccines to come forward and have them before the programme winds down this summer.
Steve Russell, NHS director of vaccinations and screening, said:
The speed and precision of the NHS vaccination drive against mpox has led to a drastic reduction in transmission of the virus among the community and we are now – thanks to NHS staff and sexual health services – in a position to wind down the programme.

There is still time to get your first and second doses if you haven't already, which will provide long-term protection against the virus and any possible future outbreaks so please do book an appointment while the offer is available on the NHS.
In February 2023, £200,000 was given to 14 schemes to boost engagement and outreach activity to reduce sexual health inequalities across England, including increasing uptake of the mpox vaccination.
Projects are offering services including vaccinations in community settings such as pubs and music festivals, raising awareness of sexual health issues at sex-on-premises venues, and communications to reduce anxiety around the mpox vaccine.
Lauren Duffy, Head of Sexual Health at LGBT Foundation, said:
Since receiving funding, we have hosted a community workshop which has helped create key messages and approaches that we are now using with our communities to increase confidence around accessing the mpox vaccine and other sexual health services.

This would not have been possible without the fund, and we are delighted to have been able to raise awareness in this way to ensure all those eligible in our area are coming forward for the mpox vaccination.
UK Health Security Agency press office
Nobel House
17 Smith Square
London
SW1P 3JR
Published 22 March 2023