News story
People should take advantage of new consumer rights – Davey
In tough times it is more important than ever that people know their rights, and the Government is determined that all consumers are aware of…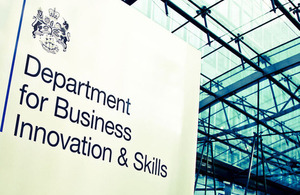 In tough times it is more important than ever that people know their rights, and the Government is determined that all consumers are aware of their entitlements coming into force on 1 February 2011. The amendments to the Consumer Credit Act will strengthen both consumer rights and lenders' duties towards their customers.__
Under the new rules customers will be able to have:
Up to 14 days to cancel new loan agreements;
The option to make partial early repayments on loans - at the moment borrowers are only able to pay the full amount off early.
Lenders will now have greater responsibility towards consumers and must:
Give borrowers standardised pre-contractual information to help them compare different loans;
Ensure borrowers understand the detail of their particular loan; and
Carry out a thorough check on borrowers' creditworthiness before any loan is agreed. __
Edward Davey said:
"The implementation of the Consumer Credit Directive will help strengthen a culture of responsible lending. With new legal rights for consumers and greater responsibility for lenders, consumers will be better able to take charge of their money.
"But this is just one part of the story. Looking ahead, we want to consider other ways to empower consumers, creating the right environment to strengthen their choices and giving business the room to innovate in response.
"Consumers should be able to help themselves, provided they have the right help and information to do so. We want to do more to promote these options as well as continue to regulate as a last resort where necessary to provide a safety net for the most vulnerable."
These rules amend the Consumer Credit Act, building upon existing protections to give extra rights and standardised information for consumers.__
Notes to editors:
---
---
Guidance for lenders was published in August 2010 and can be found here http://www.bis.gov.uk/policies/consumer-issues/consumer-credit-and-debt/consumer-credit-regulation/ec-consumer-credit-directive.

A plain English explanation of the changes can be found here: http://www.bis.gov.uk/assets/biscore/consumer-issues/docs/r/10-1072-consumer-credit-directive-quick-guide.pdf

The 14-day right of withdrawal for loans does not cover loans over £60,260, loans secured on land or loans to purchase land.

Definition of 'creditworthiness': this will vary depending on an individual bank's criteria and the particular circumstances of the loan, but must be based on sufficient information, obtained from the borrower where appropriate, and from a credit reference agency (CRA) where necessary.

BIS' online newsroom contains the latest press notices, speeches, as well as video and images for download. It also features an up to date list of BIS press office contacts. See http://www.bis.gov.uk/newsroom for more information.
Notes to Editors
Contact Information
Name BIS Press Office Job Title
Division COI Phone
Fax
Mobile
Email NDS.BIS@coi.gsi.gov.uk
Name Olivia Campbell Job Title
Division Department for Business, Innovation and Skills Phone 020 7215 5363 Fax
Mobile
Published 1 February 2011