News story
Paving the way to business freedom
Latest amendments to the Enterprise and Regulatory Reform Bill have been published.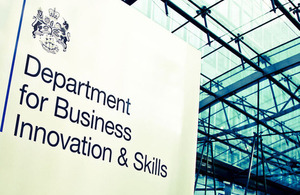 10 Oct 2012
---
---
The latest package of measures will help cut unnecessary red tape and take steps towards creating the right conditions for businesses to grow.
The amendments have been published ahead of the Bill's report stage and third reading in the House of Commons, taking place on 16 and 17 October.
The proposals to free up business include:
Removing automatic liability on business for civil damages in health and safety cases, when they are not found negligent.
Exempting intermediary companies from the Estate Agents Act, to encourage new businesses to flourish.
Simplifying entry procedures into bankruptcy by removing the court process when it is not needed, saving individuals, Government and businesses time and money.
Protecting individuals, by providing guidance and a legal defence, from committing the criminal cartel offence.
Read the details of the amendments in full.
Business Minister, Jo Swinson, said:
"Clearing away barriers to help businesses grow and invest is an essential part of the Government's plan for growth.
"The Enterprise and Regulatory Reform Bill will help strengthen the business environment and boost confidence, by sweeping away needless bureaucracy and out-of-date rules."
The amendments also contains reforms to planning consents for listed buildings, making the process more straight forward, and to equalities measures, including removing employer liability for third party harassment.
Links
[The Enterprise and Regulatory Reform Bill
](http://discuss.bis.gov.uk/enterprise-bill/)
Published 10 October 2012