Press release
Paula Sussex to be Charity Commission chief executive
Paula joins the Commission from CGI, where she is Senior Vice President, Public Sector and a member of the CGI UK board.
This news article was withdrawn on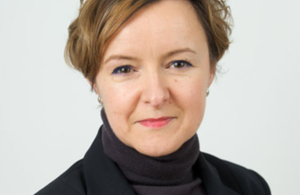 Paula Sussex has been appointed the new chief executive of the Charity Commission, the independent regulator of charities in England and Wales. She will take up the appointment from 30 June 2014.
Paula joins the Commission from CGI, where she is Senior Vice President, Public Sector. In this role she leads a business delivering solutions and services to the public sector and is a member of the main board of CGI UK. She has previously held similar strategy and leadership roles at Atos Consulting and KPMG Consulting, working with clients in the public, private and voluntary sectors.
Paula is qualified as a barrister and holds a Sloan Masters Degree from London Business School. She has a longstanding association with Crisis, the charity for single homeless people, where she was a trustee for six years.
William Shawcross, Chairman of the Charity Commission, said:
I am delighted to announce Paula's appointment and so looking forward to working with her.

Paula has an impressive track record of managing change and delivering results in the public sector and this is exactly what the Charity Commission needs right now. As well as the leadership skills, financial acumen and understanding of the regulatory environment you would expect from someone with her professional background, she is a great communicator with a real commitment to the vital role of the Charity Commission in maintaining public trust and confidence in charity. I said we needed an exceptional chief executive to lead and develop the Charity Commission and I know Paula is exactly that person.

Paula succeeds our outgoing chief executive Sam Younger who has given outstanding leadership. The Board and I are deeply grateful to Sam for all that he has achieved at the Commission during the last four years.
Paula Sussex said:
I am thrilled to have the opportunity to lead the Charity Commission, which has a key role in maintaining public trust and confidence in charity through effective regulation. I believe firmly in the vital role of charities in our society and their power to do good, and I want to play my part by building the Commission into a proactive, efficient regulator of charity.

I don't underestimate the challenge of change but I know there are significant strengths to build on, including the expertise and commitment of the Commission staff, and the widespread support for the role and purpose of the independent charity regulator.
Ends
PR 30/14
Notes to editors
Paula Sussex: career history
| Date | Role held |
| --- | --- |
| 2012-present | CGI (Logica) - Senior Vice President, Public Sector and Chief Client Officer |
| 2004-2012 | Atos Consulting - CEO; Account Director, Ministry of Justice; Head of Strategic and Government Relations |
| 2003-2009 | Crisis - Trustee |
| 1999-2003 | KPMG Consulting - Director |
| 1997-1999 | Energy Group plc - Strategist |
| 1988-1995 | Coopers & Lybrand - various roles in UK and Hong Kong |
Paula Sussex has been appointed as chief executive of the Charity Commission on a three year contract from 30 June 2014.

The Charity Commission is the independent regulator of charities in England and Wales.

Our mission is to be the independent registrar and regulator of charities in England and Wales, acting in the public's interest, to ensure that:
charities know what they have to do
the public know what charities do
charities are held to account
Published 17 April 2014