Press release
Patients to get the latest drugs and treatments more quickly
The NHS will have to comply with NICE guidance on new drugs and treatments or explain to patients why there is a delay, under a new scheme announced today.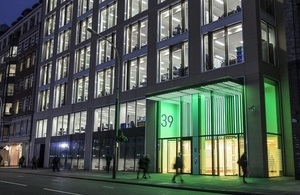 This will help end the unfair practice where some parts of the NHS delay offering new treatment while other areas make them available straight away.
This regime, expected to be fully implemented by the Autumn, will be made up of three different parts:
Publishing an 'innovation scorecard' which will allow patients and the public to see which organisations are quickly adopting the latest NICE-approved drugs and treatments;
The NHS will have no excuse not to provide the latest NICE-approved drugs and treatments. They will be automatically added onto lists of what drugs are available in local areas, which will be published for all to see. This means new drugs and treatments will be automatically made available for doctors to prescribe across the NHS; and
Making uptake of new drugs and treatments quicker by helping the NHS overcome any barriers, by setting up a new group to help local NHS organisations implement NICE guidelines. New drugs and treatments can mean the NHS has to make big changes to the way they provide services, which can be a complicated process. The new group will help spread best practice and make uptake by the NHS quicker for patients.
Health Minister Paul Burstow said:
"Patients have a right to drugs and treatments that have been approved by NICE. This new regime will be a catalyst for change - we are determined to eradicate variation and drive up standards for everyone.
"NHS organisations must make sure the latest NICE-approved treatments are available in their area, and if they are not, then they will now be responsible for explaining why not. Being transparent with data like this is the hallmark of a 21st century NHS. It is a fundamental tool to help healthcare professionals improve patient care."
NHS organisations get funding for each new NICE appraisal, so financial issues should not be a barrier to the uptake of innovative new treatments.
Under the NHS Constitution, patients have the right to drugs and treatments that have been recommended by NICE if their doctor thinks they are clinically appropriate. NHS organisations also have a statutory obligation to fund them. But they sometimes have to wait longer in some areas to access these drugs and treatments than in others. This new regime will ensure rapid and consistent adoption of NICE-approved drugs and treatments throughout the NHS.
Notes to editors
For more information, please contact Alasdair Gee in the Department of Health press office on 020 7210 5703
We're still working with the NHS and stakeholders to develop the exact content and design of the innovation scorecard. We will have more information about its content closer to its launch in the Autumn.
Published 28 August 2012