Press release
Passengers could benefit from extension of travelcard schemes
Passengers could enjoy easier travel following a CMA recommendation to extend the exemption of multi-operator ticketing from competition law.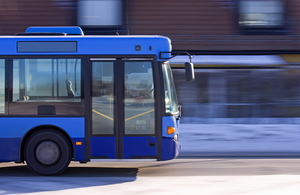 Following a consultation, the Competition and Markets Authority (CMA) is recommending that the Secretary of State for Business, Innovation and Skills renews the existing block exemption, which is due to expire on 29 February 2016, for an additional period of 10 years.
The block exemption exempts agreements between public transport providers concerning ticketing schemes which improve the quality, flexibility and ease of use of public transport.
Agreements between transport operators can raise competition concerns, for example where they involve competing operators agreeing pricing and revenue sharing. However, where they allow travellers to use integrated ticketing schemes such as through tickets or travelcards with different operators, they provide real benefits for passengers. The block exemption offers schemes that fall within its scope a 'safe harbour' from the Competition Act provisions that prohibit anti-competitive agreements.
The recommendations the CMA is making to the Secretary of State are to:
simplify the definition of multi-operator travel cards to make it easier for businesses to apply
change the block exemption to ensure that it allows for smart formats and products
renew the block exemption for a 10-year period until 28 February 2026 (up to now it has been renewed every 5 years) to give greater legal certainty to the industry
Roland Green, CMA Senior Policy Director, said:
Passengers receive substantial benefits from multi-operator ticketing schemes and that is why we are recommending the block exemption is retained. We also want travellers to benefit from opportunities offered by smart ticketing, for example by enabling price-capped, pay-as-you-go tickets to be usable across different operators.

We also think that extending the exemption to a 10-year period will be welcomed by the industry as it will provide greater legal certainty for their operations.

The added clarity should make the block exemption easier to use, particularly for bus operators and local authorities, and we hope that this will encourage the development of multi-operator ticketing schemes.
The Secretary of State will now consider the CMA's recommendations. Any amendment order would need to have effect from the beginning of March 2016 at the latest.
The CMA will also update its published guidance in accordance with the Secretary of State's final decision.
Notes for editors
The CMA is the UK's primary competition and consumer authority. It is an independent non-ministerial government department with responsibility for carrying out investigations into mergers, markets and the regulated industries and enforcing competition and consumer law. For information on the CMA see our homepage, or follow us on Twitter @CMAgovuk, Flickr and LinkedIn.
The Competition Act 1998 (the Act) prohibits agreements between undertakings, decisions by associations of undertakings or concerted practices which may affect trade within the UK and have as their object or effect the prevention, restriction or distortion of competition within the UK.
An agreement that falls within the Chapter I prohibition, but which satisfies the conditions set out in section 9(1) of the Act can be exempted from the prohibitions in the Act. This means that potentially restrictive agreements will be lawful where they produce countervailing economic efficiencies that outweigh the restrictions, and which are shared with consumers, so long as the agreements do not impose restrictions that are not indispensable to achieving the benefits, nor afford the undertakings concerned the possibility of eliminating competition in respect of a substantial part of the products or services in question.
Since 2004, businesses have had to self-assess whether their agreements comply with competition law and, where appropriate, whether they meet the conditions for an exemption. The CMA can also recommend to the Secretary of State that a particular category of agreement which it considers is likely to meet the section 9(1) exemption criteria be block exempted.
The Competition Act 1998 (Public Transport Ticketing Schemes Block Exemption) Order (SI 2001 No 319) came into force on 1 March 2001 and was subsequently amended, most recently by the Competition Act 1998 (Public Transport Ticketing Schemes Block Exemption) (Amendment) Order 2011 (SI 2011 No. 227) that came into force on 28 February 2011. It covers ticketing schemes that provide multi-operator travel cards, multi-operator individual tickets, through tickets and short and long distance add-on tickets for local travel on buses, trains, trams and domestic ferry services. The block exemption sets out a number of conditions which a ticketing scheme must satisfy in order to benefit from it.
Ticketing systems in London do not rely on the block exemption because they are excluded from competition law under an arrangement required by statute. Transport for London is under a legal obligation to enter into the relevant ticketing agreements by virtue of a mayoral direction under the Greater London Authority Act 1999.
Enquiries should be directed to Simon Belgard (simon.belgard@cma.gsi.gov.uk or 020 3738 6472).
Published 10 December 2015