News story
Parliament's veterans show support for the Armed Forces
Members of Parliament with previous military service have taken part in an act of remembrance ahead of Sunday's national commemorations.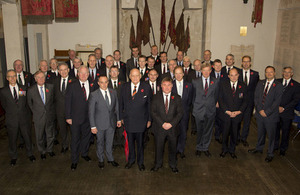 The group of parliamentarians from across the political spectrum attended the ceremony at the Guards Chapel, within London's Wellington Barracks, to pay their respects to the fallen of the 2 world wars and conflicts since.
The service, conducted by Guards Chaplain the Reverend Kevin Bell, included the Last Post, the Kohima Epitaph and a 2-minute silence, as well as hymns 'Eternal Father, Strong To Save', 'I Vow To Thee My Country' and 'Jerusalem'.
A wreath was laid on behalf of all those present by Father of The House and former member of the Royal Sussex Regiment, Sir Peter Tapsell MP.
Following the service, the MPs in attendance gathered for a commemorative photograph wearing their regimental or service ties – the aim being to highlight the large number of MPs with current or previous military service in a regular or reservist capacity, and send a message to today's military personnel that their democratic representatives, regardless of political colour, are on their side.
More than 50 of the current 650 MPs in the House of Commons have served their country either in the regular forces or in reservist organisations including the Royal Naval Reserve, the Territorial Army (now known as the Army Reserve) and the Royal Auxiliary Air Force.
The event was organised by the Armed Forces Minister, Mark Francois MP, who served as a Territorial Army officer in the Royal Anglian Regiment in the 1980s, during the Cold War period.
Mr Francois said:
I decided to compile a list of MPs who have served in the Armed Forces because I wanted to highlight the significant military experience that exists in the House of Commons and the value that this brings to Parliament and the nation.

But I think many people have been surprised to learn that the number is quite so high.

I think that bringing together MPs with a military connection in order to mark Remembrance Week is something that is appropriate and I hope it is an event we can repeat in years to come.
The MPs in attendance at the Guards Chapel represented military service in a variety of operational theatres, including Afghanistan, Iraq, the Balkans and Northern Ireland.
Published 7 November 2013