News story
Parliament welcomes 4th Mechanized Brigade home from Afghanistan
Men and women of 4th Mechanized Brigade have marched through London to the Houses of Parliament to mark their return from Afghanistan.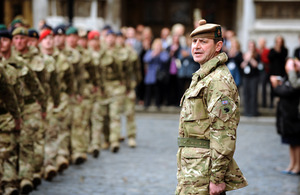 More than 120 military personnel from the brigade were led by its commander, Brigadier Bob Bruce, in the parade, which attracted crowds of spectators yesterday afternoon, 22 April.
With the Band of the Scots Guards providing the music, the marching contingent of the parade included soldiers from the Royal Dragoon Guards, the Queen's Royal Lancers, the 1st Battalion Scots Guards, 1st Battalion The Royal Regiment of Scotland, 1st Battalion The Duke of Lancaster's Regiment, 1st Battalion The Royal Gurkha Rifles and 1st Battalion The Mercian Regiment, alongside Royal Marines from 40 Commando.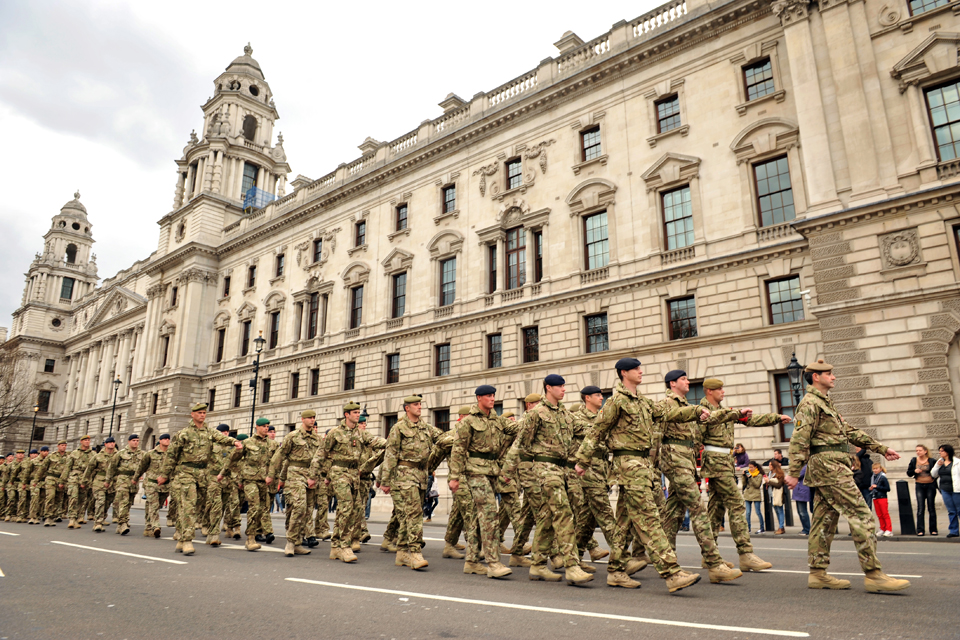 Personnel from 21 Engineer Regiment, 3 Medical Regiment, 4th Regiment Royal Artillery, amongst others, also joined in the proceedings.
The troops paraded from Wellington Barracks, along Birdcage Walk, into Parliament Square, and arrived at the Palace of Westminster at 3:30pm, where they were met by parliamentarians including the Secretary of State for Defence, Philip Hammond, Minister of State for the Armed Forces, Andrew Robathan, and Minister of State for Defence Personnel, Welfare and Veterans, Mark Francois.
They then attended a reception inside the Palace of Westminster organised by the All Party Parliamentary Group for the Armed Forces.
Philip Hammond said:
Along with a number of my fellow Members of Parliament, I was proud to have the opportunity to welcome 4th Mechanized Brigade home from Afghanistan at the Palace of Westminster. Their achievements in what remains an extremely tough and dangerous operational environment should not be underestimated.
As well as welcoming home those who have served, in particular we should remember those who have not returned. Their sacrifice will not be forgotten.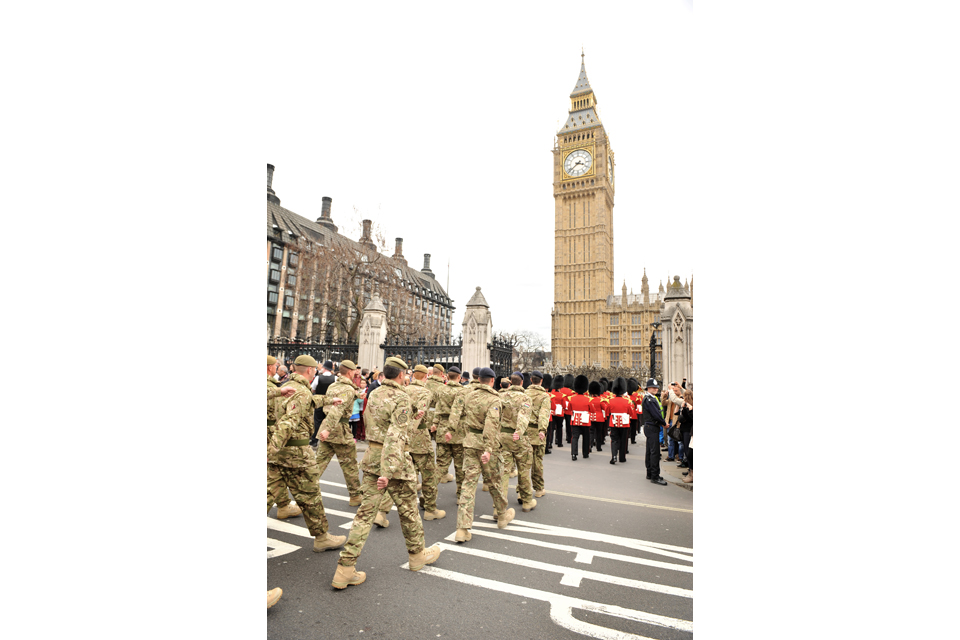 Commander of the Catterick-based 4th Mechanized Brigade, Brigadier Bob Bruce, said:
A huge amount was achieved by the men and women of 4th Mechanized Brigade over our 6-month tour. Through their hard work and sacrifice, Afghanistan is a step closer to a peaceful future, with the insurgency weakened further and the Afghan forces now in the lead for security operations in their own country.
It has been a great honour to parade through Westminster and, on behalf of the brigade, I would like to thank the All Party Parliamentary Group for the Armed Forces for extending this invitation to us.
Published 23 April 2013