Paratroopers train with French Airborne Cavalry
British and French troops have been training together to improve their urban fighting skills and develop co-operation between the two armies.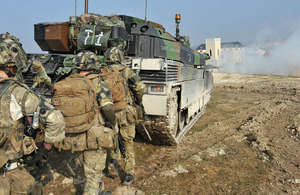 Colchester-based A Company of 3rd Battalion The Parachute Regiment (3 PARA) has been working with the tanks of the 1er Regiment de Hussards Parachutistes (1er RHP) [French Airborne Cavalry] at the Centre d'Entrainement aux Actions en Zone Urbaine (CENZUB) in North East France, the largest urban warfare training facility in Europe.
The training, called Exercise Gaulish Eagle, was designed to provide 3 PARA with experience of urban operations and working with other armies to prepare for its role in the Airborne Task Force (ABTF).
The ABTF is the British Army's rapid reaction force, held at high readiness to deploy on operations anywhere in the world.
The first part of the two-week exercise saw paratroopers train with the Giat Famas assault rifle, the standard weapon of the French Army, and learn French tactics for working with Leclerc main battle tanks in built-up areas.
The training culminated in a field exercise with the two units working together to attack and defend CENZUB's two purpose-built training towns - Beausejour and Jeoffrecourt - which have been constructed with different districts imitating retail, residential and industrial areas.
Major Richard Todd, Officer Commanding A Company, said:
As the Airborne Task Force, 3 PARA is on standby to go anywhere in the world to do anything from disaster relief to war-fighting. On an ABTF operation it is likely that we will be working alongside other armies in an urban environment, so this training has been excellent preparation for us.
The exercise has also served to strengthen the relationship and understanding with our French allies. We've used their kit and tactics, and working with 1er RHP's tanks has been an enjoyable challenge.
Private Dave Cheshire said:
It has been a tough exercise because it's been so different. We're using French weapons and their approach to fighting in urban areas is slightly different to ours. Also, as paratroopers, we're not used to working with tanks so that has been something new.
Private Damien Miles said:
Communicating with the French troops has been a challenge at times, but we've got by with a few words of French and lots of hand signals and sketch maps.
During the exercise the soldiers enjoyed a day in Paris, visiting the Eiffel Tower and the Louvre.
The training builds on the two countries' military co-operation following the signing of the Defence and Security Co-operation Treaty by Prime Minister David Cameron and French President Nicolas Sarkozy in November 2010.
3 PARA is part of 16 Air Assault Brigade which has been tasked with building a partnership with the French 11e Brigade Parachutiste. The two brigades are working towards the formation of a joint expeditionary force for contingency operations.
We need your help! We are trying out designs for a new single website for all of government and we'd love your feedback. Please visit the 'Government beta site' by clicking on the link under Related Links.
Published 15 March 2012