Paratroopers return from Afghanistan
Soldiers from Colchester-based B Company of 2nd Battalion The Parachute Regiment (2 PARA) returned from a six-month deployment to Afghanistan today to a rapturous reception from their families.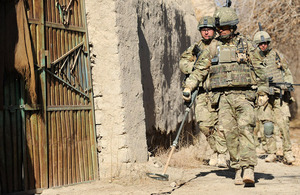 The company was the last significant contingent of troops based at Colchester Garrison to return after 16 Air Assault Brigade's recent deployment to Helmand province.
On Op HERRICK 13 the 2 PARA Battle Group was responsible for security in the Nahr-e Saraj (South) district, a rural area between Helmand province's administrative capital of Lashkar Gah and the economic centre of Gereshk.
Key achievements of their tour included establishing patrol bases in the former Taliban strongholds of Tor Ghai and Hadezai, clearing dozens of IEDs from Walizi and Char Coucha, opening seven schools, and setting up a radio station to broadcast news, music and community updates to the district's 37,000 residents.
Major Mike Shervington, 2 PARA's Second-in-Command, said:
It's a wonderful feeling to be back home, both for the guys and their families.
This tour of Afghanistan has been exceptionally challenging in physical and intellectual terms, but we have achieved an extraordinary amount.
The guys have had to juggle so many different things - on the same day we have opened schools, distributed wheat seed, fought the Taliban and patrolled to prevent IEDs being planted.
When 2 PARA was last in Helmand in 2008 we were fighting, but this time we were fighting, building and persuading people to work with the Afghan Government and ISAF. There is definitely more optimism and I believe the tide has turned.
Major Shervington said that a key development was that Afghan villagers had begun to inform troops where IEDs were planted. He said:
This shows that local people are tired of seeing their families blown up and trust that we will protect them against these indiscriminate weapons.
Published 11 May 2011