Paralympic flag flies at Eland House
The Agitos - the flag of the Paralympics - was proudly raised today by Communities Minister Andrew Stunell and two members of the disAbility…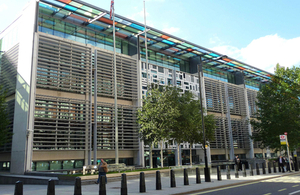 The Agitos - the flag of the Paralympics - was proudly raised today by Communities Minister Andrew Stunell and two members of the disAbility staff network, to mark the final week in the run-up to the Paralympic Games.
The Paralympic flag flying outside Eland House
The flag, also flying at 10 Downing Street and other government departments, will fly outside Eland House - alongside the Union Flag - until the end of the Games on the 9 September.
The flag bears the symbol of the Paralympics which is composed of three separate agitos coloured red, blue, and green, encircling a single point, on a white field. The agito, translated as "I move" in Latin, is a symbol of movement in the shape of an asymmetrical crescent.
The 2012 Paralympics marks the return of the event to its ancestral home with the 1948 Stoke-Mandeville Games being the first organised sporting event for disabled athletes.
Andrew Stunell said:
It is a great honour for me to raise the Paralympic flag outside Eland House, and to use this opportunity to highlight the work of DCLG's disAbility Network in supporting staff with disabilities.

I look forward to seeing a repeat of the medal success enjoyed by Team GB earlier this month.
Alan Turnball and John Dawson were the lucky winners of a disAbility network staff ballot and had the opportunity to raise the flag alongside the minister. They were joined by Barbara Curley from European Regional Development Fund, who was a London 2012 Ambassador, will also attend the event wearing her London Ambassadors uniform.
Alan Turnball said:
The Paralympics is an excellent opportunity to raise the profile of people with disabilities on an international scale and that was what inspired me to participate in the flag raising ceremony at DCLG.
John Dawson said:
I feel privileged in being chosen as a representative of the disAbility Network in the department and helping DCLG mark these Paralympics, which highlight what the disabled can achieve.
Images
All images are available from the DCLG Flickr channel (external link).
Published 20 August 2012