Palestinian Territories: New vital services for refugees
Britain will help provide vital services to tens of thousands of refugees across the Occupied Palestinian Territories, Alan Duncan said today.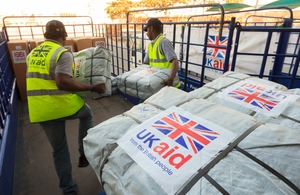 The new UK aid will help provide health, education and other vital services to Palestinian refugees in the West Bank, Gaza, Syria, Lebanon and Jordan.
The Development Minister announced the new three year package during a visit to Lebanon today. This latest round of UK aid will be delivered through the United Nations Relief and Works Agency (UNRWA).
The new support will include:
Delivering education for over 36,000 children a year
Getting at least four ante-natal appointments each a year for over 6,000 pregnant women and
Contributing cash transfers to over 20,000 households a year, giving individual households flexibility to buy what they need and also boosting the local economy.
The announcement follows a visit by the minister to the Bourj al Barajneh refugee camp in Beirut to see first-hand the help that UNRWA provides.
Whilst in Beirut, he also met with UNRWA Commissioner General Filippo Grandi to discuss its reform plans, designed to further strengthen service delivery and ensure that UNRWA can best serve refugees across the region.
International Development Minister Alan Duncan said:
Today in Lebanon, I have seen for myself the excellent work that UNRWA is doing to improve life for Palestinian refugees. I met their dedicated staff and heard stories from the refugees whose lives have been transformed by their work.

By providing education, health, relief and protection, UNRWA is helping to improve the living standards and long-term prospects for tens of thousands of Palestinians, as well as meeting more immediate humanitarian needs with food and income support for the most vulnerable.

I am proud to announce today that the UK is able to continue to support this vital work.
UNRWA Commissioner General Filippo Grandi said:
I am grateful to Britain for its continued support. It has emerged as a model donor, consistent in its commitment; financially and in advocating for UNRWA's human development mission.

Importantly, by providing predictable support over three years, the UK will enable UNRWA to plan ahead to address needs on a longer term basis.
As well as confirming the new funding, the minister spoke about the wider support that the UK has provided to those in the region, including medical aid, shelter and other humanitarian support to those affected by fighting in Syria, and the economic support provided to the region via the Arab Partnership.
Published 11 June 2012