Pakistan: UK to bolster health services for women and children
Britain announces new support to prevent maternal and child deaths and unintended pregnancies.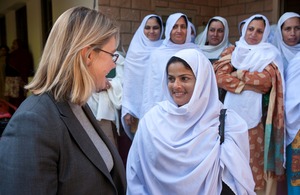 The UK's Development Secretary, Justine Greening, today gave details of new British support for a programme which will increase health services for women, children and the poor in Pakistan. The programme aims to prevent 120,000 child deaths, one million unintended pregnancies and 2,000 maternal deaths, whilst also helping 340,000 malnourished children. She made this announcement on the final day of her visit to Pakistan.
During a visit to a health clinic in Islamabad, Justine Greening saw first-hand the work of lady health workers who will receive the UK support. The new programme will bolster health services in Punjab and Khyber Pakhtunkhwa, helping to increase uptake of effective reproductive, maternal, new-born and child, and nutrition services.
International Development Secretary Justine Greening said:
Every year in Pakistan, 12,000 women die during pregnancy and 423,000 children die under the age of five - the fourth highest rate in the world. These are horrifying figures, all the more so because many of these deaths are as the result of preventable diseases such as diarrhoea and pneumonia.

The UK's support to this programme will help to increase awareness of health care to prevent such needless deaths, will improve nutrition and immunisation services, and will make it easier for people to get the skilled help they need from community midwives and birth attendants. That will mean 350,000 more babies delivered in hospitals, preventing 750,000 women developing anaemia during pregnancy, full immunisation for 280,000 children and treatment for diarrhoea for over one million.
During her visit, Ms Greening met a range of politicians - including the Pakistani Prime Minister Raja Pervez Ashraf and Foreign Minister Hina Rabbani Khar - to discuss the forthcoming elections and the need for economic reform. She also met Shahbaz Sharif, Chief Minister of Punjab, to conduct a stock-take on the Education Reform Roadmap. This is a close partnership between the UK and Government of Punjab with an ambitious plan to support millions of children in school and improve the standard of their education.
Published 22 January 2013