Pakistan: Help for one million people to prepare for future floods
The UK Government has today announced further support for people affected by last year's devastating floods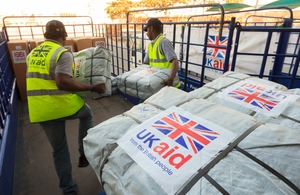 The UK government today announced housing, seeds, and animal fodder to help up to one million people in Sindh, Pakistan, affected by last year's devastating floods.
Some 1.8 million people in Sindh are still living without adequate shelter, exposed to the elements and vulnerable to disease, with the 2012 monsoon fast approaching.
The new support from UK aid is helping more families to prepare for possible future floods by providing:
18,000 families (126,000 people) with materials and advice to build permanent robust houses on raised platforms, which will resist future floods
Seeds, fertiliser, trees, and animal fodder for around 100,000 families (700,000 people) so that they can grow food and generate income
Pre-positioned emergency items in anticipation of further monsoon floods this summer, so that emergency help can be provided as quickly as possible to 15,000 families (around 105,000 people). This will include emergency shelter, solar lamps, sleeping mats, and other essential items.
George Turkington, DFID Pakistan, said:
"As the 2012 monsoon approaches there are still 1.8 million people in Sindh severely affected by last year's flood, with no adequate shelter, little opportunity to earn money, and vulnerable to disease.
"To help people prepare ahead of possible monsoon floods, we are building flood resistant permanent shelter and providing seeds and fertilisers for up to one million people.
"This brings the total number of people affected by last year's devastating floods helped by the UK to around 1.5 million. This is testament to the deep and long-term friendship between the UK and Pakistan - we always stand by and support each other".
Targeted Support
The support will go to the worst flood affected districts of Umerkot, Mirpurkhas, Sanghar, Matiyari, Badin, Banazeerabad, Tando Mohammed Khan, and Tando Allahyar districts in Sindh Province.
The UK government provided immediate lifesaving support after last year's floods, and has now helped more than 1.6 million people to get back on their feet. This brings the total UK government help for people affected by the 2011 floods to:
Around 864,500 people (128,500 families) provided with seeds, fertiliser, or animal fodder
Permanent floods resistant homes for 315,000 people
Tarpaulin sheets, pegs, ropes, or poles to provide emergency shelter or help to repair their homes to more than half-a-million people
57,000 blankets and 24,000 buckets
28,000 solar lamps
Support to the World Health Organisation's (WHO) Disease Early Warning System in Sindh until February 2012, to try to avoid major outbreaks of health epidemics.
Published 3 July 2012