Pakistan floods: survivors rebuild their lives
How UK aid has helped those affected by the 2010 Pakistan floods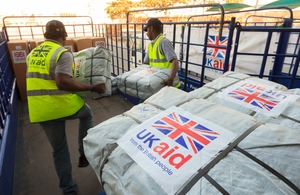 Millions of survivors are rebuilding their lives in Pakistan following the devastating floods last year. With the help of UK aid, families across the country are returning to newly built homes, growing their own food and getting children back to school.
The flooding - which began in July 2010 - led to one of largest disasters the world has seen, leaving 14 million people needing emergency help. Many families lost everything after fleeing their homes. Thousands of schools were destroyed and vast areas of farm land were wiped out.
The British Government was at the forefront of the international response, initially providing emergency shelter and food. Beyond the immediate crisis, UK aid helped to build new homes that can stand up to floods, repair damaged schools and provide new seeds and tools for farmers to start over.
One year on, the ongoing support includes: 
shelter for more than a million people, including 13,400 flood resistant brick houses, each big enough to house a family of eight people
basic health care for 2.6 million and safe drinking water for 2.4 million people in the aftermath of the floods
wheat and vegetable seeds, fertiliser, animal feed and veterinary services for around 895,000 people
help to get 200,000 children back in education by repairing schools, as well as accelerating a project to build 40 new schools in Khyber Pakhtunkhwa
Internationally, the UK put pressure on other countries to play their part, lobbying other nations to donate more through the United Nations. A recent report by the International Development Committee commended the UK's leadership, describing its response to the humanitarian crisis as 'swift and generous'.
International Development Secretary Andrew Mitchell said:
"Britain is immensely heartened to have been able to change the lives of people affected by the floods, and to now see families living in flood-resistant houses that we've helped to build, children in schools we've repaired, and people harvesting crops from seeds that we gave them.
"Much still needs to be done which is why UK aid will continue to help people in Pakistan over the coming months and into 2012. This reflects the deep friendship and longstanding bond between the UK and Pakistan - our countries are closely tied through family, business, history and culture, and we will always stand by and support each other."
The UK is committed to being better prepared to deal with future disasters in Pakistan and to build up the resilience of local communities. This is in line with the Humanitarian Emergency Response Review, published by Lord Ashdown earlier this year.
Ahead of the this year's monsoon, the UK is helping to set up and equip 12 disaster management units across Pakistan in the Khyber Pakhtunkhwa, Punjab, and Sindh regions, with the support of the Red Cross. The units provide a hub for logistics and a base for staff to work, and will house emergency items such as tents and blankets for 35,000 people, to enable a quick response in any future disasters.
Published 28 July 2011