Pakistan floods: how can I help?
Many people in the UK have been moved by the images of devastation in Pakistan, including those who have personal connections with the country.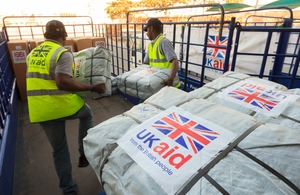 Many people in the UK have been moved by the images of devastation in Pakistan, including those who have personal connections with the country or family living in the affected areas. Herer you can find details of practical ways you can help improve the situation and show solidarity with those affected.
Give money
The easiest and most effective way to help is by giving money to a reputable charity. The UK public has already generously donated over £33 million to the Disaster Emergency Committee's disaster appeal.
Given the scale of the emergency in Pakistan, most of the UK's major aid agencies are working together as part of the Disasters Emergency Committee (DEC).
The DEC is an association of charities who act collectively for fund-raising and publicity purposes, uniting agency efforts in times of disaster. They are:
ActionAid
British Red Cross
CAFOD
Care International UK
Christian Aid
Concern Worldwide
Help the Aged
Islamic Relief
Merlin
Oxfam
Save the Children
Tearfund
World Vision
The DEC organises the broadcasting fund raising appeals that you may have already seen. The agencies save money by advertising for donations as one group and for free on the BBC and independent television channels and radio stations.
If you donate money to the DEC you can be sure that it will go to support the disaster relief work in Pakistan. Aid agencies will report back to people that donate money to explain how it has been used.
And remember, as a UK taxpayer, you are already helping to fund DFID's response to disasters and emergencies overseas, as well as its long-term work to fight global poverty.
Please don't collect and send donated goods
A common response to disasters overseas is to organise the collection and donation of goods that you think are urgently needed. However a cash donation will help aid agencies to buy whatever is needed most so please avoid sending goods yourself.
If you donate goods that haven't specifically been requested by an aid agency, these items could clog up airports and docks and prevent essential supplies from reaching people in Pakistan.
The cost of sorting, packing and transporting clothing, blankets and other items collected in the UK often outweighs the benefits of having them donated.  It is also cheaper and quicker to buy food in Pakistan and neighbouring countries, and this helps to maintain local markets and avoids the risk of donated food ending up in the wrong place at the wrong time.  
The large United Nations agencies and the major non-governmental organisations are geared up to rapidly providing bulk supplies of food, clothing and medical supplies, without the need for sorting, packing, finding transportation costs or seeking permits. A cash donation will help the UN and other aid agencies buy whatever is needed most.
Other ways in which you can help
People with specialist technical skills could be required and welcomed to help in Pakistan. If you have the necessary skills, you can register online with RedR or International Health Exchange. 
These agencies match people's professional skills such as engineering (water, sanitation and mechanical), health, child protection, search and rescue, logistics and telecommunications.
Volunteer in the UK
However, if you do not have any specialist skills, do not go to the disaster affected areas, because you risk doing more harm than good.
There is a high chance that after using up crucial travel, accommodation, food, or translation resources you may be unable to effectively contribute to the relief effort. 
Helping by volunteering in the UK is an important part of the disaster relief effort. 
Check the websites listed in Contact Points for more information and advice on how you can help in the UK.
You could:
Help staff phone lines for an aid agency taking donations or providing public information
Organise local, community, mosque, church, synagogue, temple, workplace, or school fundraising events. You can find more ideas for fundraising together with practical guidance on the following websites: Islamic Relief Save the Children
Volunteer in a charity shop sorting and selling donated items.
More detailed information on short and long terms ways to help in a disaster.
Published 24 August 2010