Pakistan flood relief update
RAF personnel are continuing to spearhead Britain's international aid effort to assist people affected by Pakistan's devastating floods.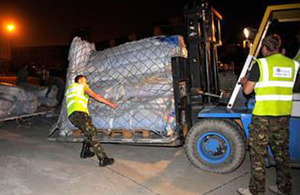 A C-17 Globemaster operated by 99 Squadron, based at RAF Brize Norton in Oxfordshire, took one of the latest consignments of UK aid to the country's capital Islamabad at the request of the Department for International Development (DFID).
The C-17 is the RAF's largest transport aircraft, capable of carrying 73,800kg of freight and 138 personnel over ranges up to 8,300km, and is already operating every day in the region providing vital logistic support; ferrying supplies and personnel in aid of UK operations in Afghanistan.
Wing Commander David Manning, Officer Commanding (designate) 99 Squadron, said:
With regards to the Pakistan floods we have so far dispatched two C-17 aircraft carrying 14 loads of aid provided by various UN agencies including tents, food and medical supplies.
The aid was picked up from UN stores in Dubai destined for the Peshawar region of Pakistan.
Wing Commander Manning said:
This operation also gives us the ability to look at how flexible air power can be in terms of support to combined operations and in supporting humanitarian relief operations.
We have done these operations before and I am sure that we will be asked to do them again in the future.
Flight Lieutenant Jim Thurrell, a C-17 pilot, said the flight posed a range of challenges to aircrew who navigated the mountainous terrain, sometimes in darkness, while thunderstorms raged outside. He said:
The C-17 is able to conduct long range humanitarian missions to any part of the world at short notice and a considerable amount of aid at that.
He said on the ground at Islamabad Airport they were met by Pakistan Air Force personnel and DFID officials responsible for ferrying the aid onwards to areas where it is needed.
Sergeant Lee Adamson, loadmaster on the flight, said:
Normally we are out here transporting passengers in and out of Afghanistan on a daily basis so it was a different challenge transporting tents and medical supplies, including anti-malarial medicine, to Pakistan.
It's a different route to that which we normally take to Afghanistan, but the operation went smoothly and the aid was rolled-on and rolled-off at Islamabad.
The Head of DFID's Pakistan Office, George Turkington, said:
It's great that the Department for International Development, RAF and the UN are working together to help people in Pakistan whose homes and lives have been washed away by the floods.
This is the second RAF flight we have called in, this time bringing items for the UN, including tents, food and health kits.
The UK's Deputy Prime Minister, Nick Clegg, said while visiting the offices of the Disasters Emergency Committee (DEC) in Euston, central London, today that the UK public has led the world with its generosity in response to the Pakistan floods.
The DEC appeal has now raised £33m and the UK Government has committed more than £60m.
Mr Clegg was joined by International Development Secretary Andrew Mitchell and Baroness Warsi, who both recently visited Pakistan to see how UK aid is helping those affected by the flooding.
The Government outlined today that the additional money pledged last week would be targeted mainly at the Punjab and Sindh provinces in the south of the country. The new UK support will be spent alongside the money raised by the DEC appeal through non-governmental organisations and international agencies.
The support will focus on five key areas. As well as addressing immediate needs - shelter, food, clean water and healthcare - support will increasingly go to longer term help which will support people in rebuilding their lives, such as supplying farmers with new seed for crops.
In addition, the Deputy Prime Minister confirmed the following assistance for Pakistan:
Ten UK-made pre-fabricated 30-metre road bridges for the Khyber Pakhtunkhwa district. They will leave Tilbury docks in London at the end of this month to arrive in September in Karachi.
Two bridges already in Pakistan will leave Karachi in the next few days to be transported to flood-affected areas.
More RAF flights carrying humanitarian aid will fly to Pakistan later this week. They will fly to Islamabad and to the most affected area, Multan, in the south of Pakistan. The first flight will be carrying 3,000 urgently-needed shelter kits which will help 15,000 people.
A new 'Pakistan Floods Monitor' showing exactly how UK aid is helping people in Pakistan goes live today on the DFID website - see Related Links.
The Deputy Prime Minister encouraged members of the public to continue to donate to the DEC appeal, saying that this was the most effective way that they could help.
Mr Clegg said:
The floods in Pakistan have been an almost unimaginable human catastrophe. People across Britain have led the way in their generosity to bring much needed help to those affected by this terrible tragedy. Britain will stand by Pakistan in its hour of need.
Published 25 August 2010