Paice: UK farmers must not be penalised for putting their animals' needs first
The UK today renewed calls for Europe to reach a workable agreement and stop eggs from illegal battery cages being sold across the common market.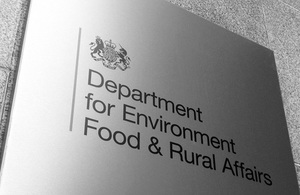 With an EU wide ban on battery cages imminent, UK Agriculture Minister Jim Paice was in Brussels today, urging member states to agree a way forward on enforcing the new ruling. This follows concern among egg farmers with higher welfare standards they will be put at a competitive disadvantage to those who wilfully disobey the new law.
However, following a day of talks, there was still no agreement on how to properly enforce the Welfare of Laying Hens Directive. 
Farming Minister Jim Paice said:
"UK egg farmers have led the way in introducing higher welfare standards, spending millions of pounds to convert to better cages. Despite having 12 years to prepare, producers in several Member States are nowhere near complying with the new rules but could still be able to sell eggs, putting our farmers who look after their chickens at a disadvantage.
"With the cut-off date looming, it really is unacceptable that the Commission is not able to enforce a regulation on animal welfare. British farmers who have invested in new systems and met their obligation will be put at risk.
"I fully understand why other countries who have complied with the rules reject any compromise. However, that would mean the destruction of millions of eggs every week which would not be right. That is why the idea of a 'gentlemen's agreement' to ensure that eggs from illegal cages do not leave the country of origin, seems the least worst option."
The Commission has ruled out legislation to enforce the ban on free trade grounds, leaving producers free to sell cheaper battery eggs - much of it as liquid and powder- across the EU.
Mr Paice added:
"The Commission has arranged for another meeting of specialists and I'm still hopeful that we can find a way forward. In the meantime we're wasting no time and I'll meet British industry representatives tomorrow to look at what we in the UK can do alone."
Before and after the Council meeting Mr Paice met the Commissioner for Health and Consumer Policy, John Dalli, and urged him to find a way forward and learn lessons from this to avoid the same problem when legislation on sow stalls comes in next year.
Published 14 November 2011