Press release
Oxfordshire companies are fined £21,000 for deposit of illegal waste
An Oxfordshire haulage company owner and the landowner of a mushroom farm have been ordered to pay a total of £21,000 in fines and costs for illegally depositing 3000 tonnes of illegal waste at the farm's site in Bampton.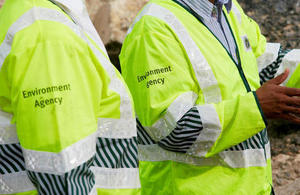 Francis Stewart-Wood, the director and landowner of Elmwood Farm, Aylesbury Mushrooms (Farms) Ltd and Stephen Radband of Bampton (a director of SJ Radband Haulage Ltd ) appeared before Oxford Crown Court on 18 June 2015 to be sentenced for their roles in the illegal operation.
The court heard how approximately 3,000 tonnes of controlled waste known in the industry as 'trommel fines' which can contain various contaminants including gypsum, were illegally deposited at the farm. The material was sourced from one of Powerdays plc waste transfer stations in Neasden, West London.
The Environment Agency alleged that the waste had been mis-described in order to justify its use as a growing medium compost for Mr. Stewart-Wood's mushroom farm and to avoid higher legitimate disposal fees.
The farmland did not have an environmental permit or the relevant exemption for the waste to be deposited. One of the waste carriers, SJ Radband Haulage Ltd, had failed to exercise due diligence in ensuring that waste had been properly described or that the farmer had an environmental permit or an exemption for the waste to be deposited there.
The duty of care for environmental offences is designed to be an essentially self regulating system which is based on good business practice. It places a duty on anyone who in any way has a responsibility for controlled waste to ensure that it is managed properly and recovered or disposed of safely and in such a way as to protect the environment.
The Environment Agency was alerted to the case on 15 June, 2012 after receiving reports of lorries containing, what was thought to be, waste entering a farm gate at Black Bourton. When Environment Agency officers inspected the site they found that the trommel fines had been illegally deposited on the farmland.
The Court found that Mr Stewart Wood and his company Aylesbury Mushroom Farms Ltd had acted recklessly and Stephen Radband had been negligent in committing the offences. The Court took into account their financial position in fining Frank Stewart Wood and Aylesbury Mushroom Farms Ltd £10,000 and £4,000 pounds respectively and ordered them to pay a contribution of £2,000 each toward the costs of the prosecution. Stephen Radband was fined £1,600 and ordered to pay £2,000 towards prosecution costs.
The waste initially came from a London waste operator Powerday plc, one of the largest waste transfer stations in the South East. Powerday plc at an earlier date (22 April 2014) pleaded guilty to related offences and will be later sentenced at Harrow Crown Court on the 21 September 2015.
In an earlier hearing on 22 April 2014 at Oxford Magistrates Court, one of the other waste hauliers of the waste, Fred Sherwood and Sons (Transport) Ltd pleaded guilty to illegally depositing part of the waste and failing in their duty of care. Fred Sherwood and Sons (Transport) Ltd received fines totalling £27,000 and ordered to pay costs of £3,000 by Oxford Magistrates' Court.
Ian Finnegan, waste crime enforcement officer for the Environment Agency said:
We take a zero tolerance approach to companies who misdescribe their waste and deposit it illegally. It puts the public and the environment at risk, as well as costing the taxpayer and honest businesses.
We are currently working with other enforcement agencies including Her Majesty's Revenue and Customs to stop this continuing illegal behaviour.
Anyone who has information on the mis-description of waste and its illegal disposal can contact us on 0800 807060 or call crime stoppers anonymously.
More information:
Offences: 1 s33(1)(a) EPA 1990 depositing waste without an environmental permit.
Trommel fines is a type of waste, often with high soil and plastic content, that is produced at the end of a mechanical process used to separate different types of waste at a processing facility. It often requires disposal in a landfill designed to contain any hazardous or non hazardous properties that result from soil contamination, plaster board or construction materials.
Published 19 June 2015