Oxford Street launches Great British Fashion Flag Showcase
Iconic high street kick starts Diamond Jubilee celebrations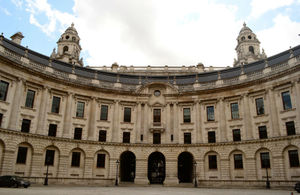 The Showcase includes 147 union flags with 10 dedicated fashion flags to celebrate Great British Fashion, ahead of The Queen's Diamond Jubilee in 36 days' time.
The flags, which represent 147 years of fashion for the world famous high street, will be seen by over 12 million shoppers from more than 200 countries for six weeks only, as Jubilee mania comes to the capital. The 12 foot high flags will be the first of 500 union flags going on show across London's West End including Bond Street, Regent Street and Piccadilly. 
At a ceremonial unveiling supported by the British Fashion Council and the GREAT campaign, fashion royalty Jasmine Guinness was joined by John Penrose, Harold Tillman, Chair of the British Fashion Council and Dame Judith Mayhew Jonas, Chairman of New West End Company. 
British Fashion contributes over £21 billion a year to the UK economy and supports some 816,000 million jobs.
Fashion flags competition
As part of the Flags Showcase launch, Oxford Street retailers are giving away Diamond Jubilee goodies, visit the Oxford Street website to enter the competition.
Further information
Published 3 May 2012