Over half of London's rough sleepers now non-UK nationals
Housing Minister Grant Shapps today warned aspiring Dick Whittingtons from across the continent not to come to London before making firm plans…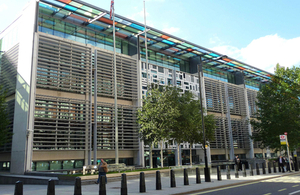 Housing Minister Grant Shapps today warned aspiring Dick Whittingtons from across the continent not to come to London before making firm plans, with figures showing that more than half the capital's rough sleepers come from overseas.
Grant Shapps issued his warning alongside a pledge of £18.5 million to provide advice and information for those at risk of homelessness.
It comes as the latest statistics for England published today show the number of people sleeping rough increased by 23 per cent since last year.
Separate data from across the capital shows that of all the rough sleepers in London, more than half now come from overseas. Mr Shapps said that the rising number of rough sleepers from Central and Eastern Europe in particular are putting extra pressure on homelessness services and acknowledged the excellent work being led by the Mayor's London Delivery Board on rough sleeping to tackle the problem through the No Second Night Out initiative.
To address this growing problem, Mr Shapps is backing a new campaign by London's Passage Day Centre to help make Eastern European citizens aware of the realities of moving to England to look for work before they pack their bags.
Housing Minister Grant Shapps said:
Non UK residents now account for over half the rough sleepers in our capital, so anyone heading here with tales of Dick Whittington in their head needs to realise that the streets of London and our other cities aren't paved with gold. Those arriving from beyond our shores to try and carve out a future in England should come with a thought-through plan to avoid the risk of sleeping on the streets.
The Government and the Greater London Authority are also working closely with foreign embassies to minimise the problem, with embassies making it easier for rough sleepers to get the documents they need and providing advice and assistance to their citizens in both the UK and in their home countries.
Mr Shapps made clear however that this country provides some of the best support for rough sleepers in the world. Every country has different methods for counting rough sleepers, but with fewer than 450 rough sleepers in London compared to reports of up to 2,500 in New York and 5,000 in Paris, he said that the capital was dealing with the issue more effectively than many other cities internationally.
Today's rough sleeping figures are the second annual release since the Government overhauled the way councils conduct counts in their area. All councils are now required to provide a robust estimate or count of those sleeping rough in their area - in order to give a clearer picture of the scale of the problem across the country, and bringing the total national figures much higher than under the previous, voluntary system.
The Minister also confirmed £18.5 million for councils to help tackle and prevent rough sleeping among single people, ensuring that nobody is turned away without clear and useful advice when they are most in need. This comes on top of the existing £400 million grant this Government has protected for preventing homelessness.
The Minister also challenged local authorities across the country to follow the example of Merseyside, whose new commitment to ensure no-one spends a second night on the street is helping many people in the local area improving the chance they won't return.
Mr Shapps added:
This country has some of the best homelessness services for those who become destitute in the world, but rough sleeping is still on the rise, and I want to make sure we're doing everything we can to prevent anyone spending a second night on the street.

Today I'm investing over £18 million to ensure that everyone has the advice and information they need to avoid homelessness. And with Liverpool now signed up to adopt the potentially life-saving 'No Second Night Out' commitment pioneered in London and other major cities making plans, in future no-one should ever spend more than one night on the streets.
Notes to editors
The statistical release Rough Sleeping Statistics England - Autumn 2011 can be found at: www.communities.gov.uk/publications/corporate/statistics/roughsleepingautumn2011.

For a breakdown of rough sleeping in London by the Combined Homelessness and Information Network go to: www.broadwaylondon.org/CHAIN/Reports/StreettoHomeReports.html (external link).
Twitter
Keep up to date with the Department by following us on Twitter (external link).
Media enquiries
Visit our newsroom contacts page for media enquiry contact details.
Published 23 February 2012