News story
Over 6,000 Second World War heroes recognised
Over 6,000 Arctic Stars and Bomber Command Clasps have been issued to living veterans across the country.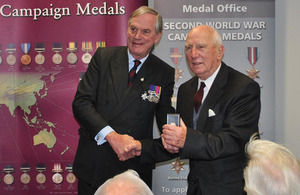 Since the Prime Minister announced the new awards in December 2012, all veterans who applied have now received their awards and tens of thousands of awards will be issued over the coming months to widows and then to the families of all those who have sadly died.
To coincide with the month of remembrance, the Parliamentary Under Secretary of State and the Lords Spokesman on Defence, Lord Astor of Hever, visited the Ministry of Defence Medals Office in Gloucester yesterday to award local veterans with the Arctic Star and Bomber Command Clasp for their contribution during the Second World War.
War heroes across the South West who served on the Arctic Convoys and in Bomber Command have received 1,152 awards in recognition of their heroism and bravery.
Speaking from the Medals Office in Gloucester, Lord Astor said:
We have tremendous respect and admiration for all those who served our country in Bomber Command and on the Arctic Convoys. I am therefore delighted that so many individuals in the South West have been able to receive the Bomber Command Clasp and Arctic Star that they have so long deserved.

I am also pleased that the widows and families of those no longer alive are able to receive these awards in recognition of their loved ones' bravery.
Lord Astor's visit coincides with this month's promotion of the Elizabeth Cross to the next of kin of all those who have died on operations or as a result of terrorist activity whilst on duty.
An estimated 4,000 Elizabeth Crosses and Memorial Scrolls have yet to be claimed for operational deaths since 1948, and families are now being urged to apply for recognition on behalf of their loved ones.
Published 15 November 2013