Press release
Our response to public comments on government transparency
Thank you to everyone who commented on government transparency in Our Programme for Government (PFG) Government…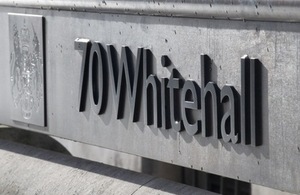 30 July 2010
Thank you to everyone who commented on government transparency in Our Programme for Government (PFG) [external website].
Government transparency
Since the publication of Programme for Government (PFG) on 20 May 2010 we have already started to deliver on our promise to introduce transparency in government.  In our first few weeks we have taken important first steps and released the Treasury's COINS database of public spending and the names, job titles and salaries of 345 officials who earn more than the Prime Minister. People already have more information with which they can really hold politicians and government to account.
As requested by some of those who commented, on 29 May 2010 the PM set out a detailed timetable for the release of other key transparency data for the rest of the year. This included dates for the release of central and local government payments, contracts and tenders, and more details of the names, jobs and salaries of senior officials.
We also received some suggestions about the detail of how transparency should operated. The new Transparency Board, set up to keep pushing the transparency agenda and ensure our commitments continue to be implemented across government, has incorporated new ideas into a draft set of Public Data Principles on data.gov.uk [external website], which are available  for further public comment. The principles include a call for public data to be published using open standards in reusable, machine readable form under the same open licence allowing free reuse, including commercial reuse.
We believe that our transparency programme should respond to what people want to see. The Cabinet Office is working in conjunction with the Ministry of Justice to give people a 'right to data'.  As a first step towards this the Transparency Board have put out a public call for datasets on data.gov.uk [external website]. This will give the public an opportunity to tell us what their top priorities really are and help set the Transparency Board's agenda for action.
Open standard and open source the way forward
We are committed to the use of open standards and recognise that open source software offers government the opportunity of lower procurement prices, increased interoperability and easier integration. The use of open standards can also provide freedom from vendor lock in. In September 2010, we will publish Guidance for Procurers. This guidance will ensure that new IT procurements conducted by government, evaluate both open source and proprietary software solutions, and select the option offering best value for money.
Improving efficiency
We are committed to improving efficiency and tackling waste. The current ICT Moratorium and Project Review processes provide an opportunity to review existing IT projects, in order to stop unnecessary and wasteful spend.  It also allows us to identify horizontal synergies across government, which can deliver further departmental savings through collaboration.  The ICT Project Review will provide valuable baseline data for use in the supplier contract negotiations.  In addition, in the Cabinet Office Structural Reform Plan we have committed to publish performance details on all central government ICT projects above £1 million. This will, for the first time, provide an open perspective on how government ICT projects are performing.
Find out more
Published 30 July 2010