News story
Order laid for electronic notification of parades and protests
The NI Secretary of State has signed an Order allowing for notices of parades and related protests to be submitted online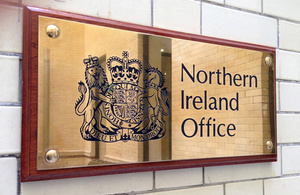 The Public Processions (Electronic Communication of Notices) (Northern Ireland) Order 2015 came into force on 12 March 2015. This will allow for notice of parades and related protests to be submitted electronically and is in-line with the cross-government 'Digital by Default' agenda set out in the Government Digital Strategy.
It will mean that organisers can submit notice of parades and protests in Northern Ireland through an online portal, thus avoiding the cost and inconvenience of travelling to the relevant police station. For those who do not have access to electronic means, the current system will continue to run in parallel, resulting in no disadvantage.
The Secretary of State has made a Direction, Directions for online notification process (PDF, 207KB, 3 pages) in accordance with section 7A of the Public Processions (Northern Ireland) Act 1998.
The new notification portal can be accessed via the Parades Commission website
Published 23 March 2015