News story
Opportunities for UK exporters in Latin America
Lord Livingston urged UK businesses to consider the opportunities for export to Latin America during 'Export Week' event in Bournemouth on 12 November 2014.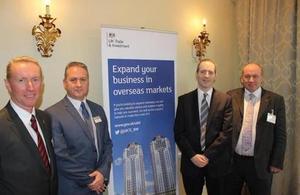 The 'Spotlight on Latin America' event in Bournemouth was organised by UKTI Trade and Investment (UKTI). The event aimed to promote the lucrative export opportunities currently available in the dynamic markets of:
Brazil
Chile
Colombia
Mexico
Delegates heard from companies that have successfully made the leap to Latin America, and UKTI demonstrated how it can support businesses with their overseas trade plans.
Trade Minister Lord Livingston said:
South West businesses are strong exporters, who grew their overseas sales by almost £400 million in the first 6 months of this year.
Success in Latin America
Lord Livingston spoke about some of the export successes to have come out of the South West region, such as Poole-based Heatric, part of the Meggitt PLC Group. Heatric has recently won a £80 million contract in Brazil.
Russell Jones, UKTI South West Regional Director, said:
We're delighted that Lord Livingston has joined us during Export Week.

This event has proved to be an interactive and thought-provoking seminar, providing delegates with a sound understanding of each market and showing how businesses can successfully export to the exciting region of Latin America.
Mercado Libre
Mercado Libre is Latin America's leading e-commerce site. It's signed an agreement with UKTI which is part of UKTI's e-exporting support programme.
The agreement gives preferential terms to UK companies that are introduced via UKTI, with free commercial listings for the first 6 months.
Other visits
Prior to the event the Minister held a roundtable discussion on exporting with:
Dorset Local Enterprise Partnership
Dorset Chamber of Commerce
local businesses
Lord Livingston also visited Poole-based precision engineering specialist Field International Ltd, to discuss how UKTI can help Mid-Sized Businesses.
Contact
Published 13 November 2014