Operational Allowance extended to Libya operations
Service personnel operating within the landmass, airspace and territorial waters of Libya are now eligible to receive the Operational Allowance (OA), Defence Secretary Dr Liam Fox announced today.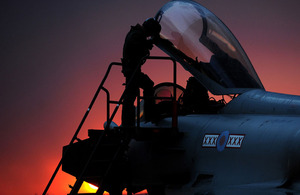 The Ministry of Defence conducts a review of the locations eligible for OA on a six-monthly basis - the most recent of which led to today's extension and means that personnel working as part of the ongoing campaign to protect civilians under United Nations Security Council Resolution 1973 will now receive the Operational Allowance.
The Operational Allowance is already paid to all Service personnel serving in Afghanistan on Operation HERRICK.
The move means that all servicemen and women deployed within the geographical confines of Libya on Operation ELLAMY will now receive the allowance, which is based on an assessment of the risk and rigour of the operating environment.
Pilots and aircrew operating over the Libyan landmass and the crew of ships and submarines operating within 12 nautical miles (22km) of the coast will receive the allowance for each day that they are serving in these specific areas.
The payments will be backdated to 18 March this year, when the United Nations resolution justifying military action was signed.
Having been doubled by the Government last year, the tax-free Operational Allowance now stands at £29.02 per day.
Dr Fox said:
It is important that we recognise and reward those Service personnel who are engaged in the very highest areas of conflict.
Eligibility for the Operational Allowance reflects the rigour and risk of the operation in question and I am delighted that we can now extend these payments and recognise more of our brave servicemen and women in this way.
Published 13 July 2011