World news story
Openning of the Human Rights and Democracy Fund 2015/16 bidding process
You can apply now for Guatemala and Honduras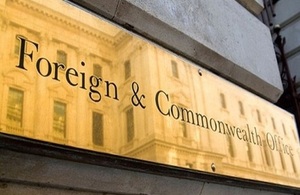 The Human Rights and Democracy Department (HRDD) of the Foreign and Commonwealth Office (FCO) opens every year an opportunity of cooperation overseas, to support human rights and democracy work. The Programme aims to make a difference to people's lives, by helping to build the capacity of governments and civil society to promote and protect human rights.This is a global fund, in which proposals from all parts of the world will be evaluated.
During the last bidding process, over 80 projects were funded worldwide. Two bids presented to this post were finally selected in London. Those projects were focused on prevention of sexual violence in conflict (Guatemala) and freedom of expression (Honduras). We encourage you to participate with creative ideas in this year's bidding process.
Decisions will be based on where we can make the greatest impact, in accordance with the FCO's strategy on Human Rights and Democracy and the specific characteristics of each country. For the 2015/16 bidding process, for Guatemala and Honduras we are targeting projects in the following areas:
· Guatemala: Abolition of death penalty, business and human rights, child marriage and democratic process.
· Honduras: Women's rights and global torture prevention.
Please note
· Who can present bids? Bids can be presented by civil society, governments, think-tanks, other UK government departments and strategic partners.
· Amount Granted per project? £30,000.00-45,000.00 (Approximately USD $48,300.00-72,450.00 / Q 369,000.00-553,500.00 / L 1,028,857.00 – 1,543,286.43 depending on exchange rate).
· Time for the project to develop: The project should be schedule to start after 1st of April 2015, and has to be completed by 28th of February 2016.
· Useful tips: The concept note needs to be written in English, making sure that it is concise, clear and convincing. Maximum length is three pages long. Try to be creative and show understanding of the context in which the project would take place. Always keep in mind that this is a high quality and competitive process.
· In particular, we will look for projects that can demonstrate impact, value for money, and sustainability. You will need to show how will the activities in your proposal will continue once HRDP funding has ceased and how the initial funding be used to bring about a bigger change in the longer term.
The deadline for submitting concept bids is 5pm on Monday 1st of December, 2014. Concept bids must be submitted using Project concept form (MS Word Document, 41.1KB). Please send the completed form (in English) to Embassy@intelnett.com and include "HRD Fund Project Proposal" in the subject line.
Bids will be assessed by the local Programme Board. If your bid is chosen by the local Programme Board, we will then contact you in early December to discuss the development of a full project proposal. Please assume that your concept bid has been unsuccessful if you do not hear back from us by the end of end of December 2014. Unfortunately due to the volume of bids we will be unable to provide feedback on unsuccessful bids.
Full project proposals will be forwarded to the London Programme Board for consideration against other bids worldwide. It is our aim to inform all successful and unsuccessful applicants by the end of March 2015.
Key Documents and Links
Published 5 November 2014