World news story
Op-ed by UK Ambassador - Birthday of HM Queen Elizabeth II
The British Embassy Phnom Penh celebrates the birthday of Her Majesty Queen Elizabeth II, now in the 64th year of Her reign.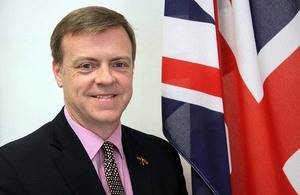 This week, over 500 distinguished guests from the Royal Government of Cambodia, the diplomatic corps, civil society leaders and students will join the staff of the British Embassy and me as we celebrate the official birthday of Her Majesty Queen Elizabeth II, now in the 64th year of Her reign.
In the 12 months since we last celebrated Her Majesty's birthday, UK – Cambodian links have developed apace. Bilateral trade between the UK and Cambodia has grown steadily, surpassing USD 1 billion and 133,000 British tourists visited Cambodia in 2014 – the highest number on record.
Our trade envoy, Lord Puttnam, visited twice more and led seminars on corporate social responsibility and on branding, in particular to help Cambodian producers market internationally the excellent quality of this country's agricultural produce. We have worked increasingly closely with the British Chamber of Commerce as it seeks to expand the services and assistance it offers to existing and potential new British investors and traders with Cambodia.
In the UK we have held an important referendum on Scottish independence, where the people of Scotland chose to remain within the UK. And last month, the British people went to the polls to elect our government for the next five years.
Here in Cambodia we have continued to focus much of our work on supporting education reforms and opening up opportunities for more Cambodian students to study in the UK. I was delighted that the British government has hugely expanded the number of Chevening Scholarships - our official government scholarship program.
Up to 24 outstanding students, (six times the 2014 number) will go for post-graduate studies this September to a range of UK Universities in fields of studies relevant to the development needs of Cambodia. For example, Food Chain Systems in Cranfield University, Water Science, Policy and Management in University of Oxford, Organic Agricultural Systems at the Royal Agricultural University and Nutrition for Global Health with London School of Hygiene and Tropical medicine.
In addition to promoting our scholarships for future years, we have started to work with the Ministry of Education to encourage a particular focus on STEM subjects – Science, Technology, Engineering and Mathematics – disciplines that are sorely needed to help Cambodia's development.
This year, in keeping with the UK's goal of promoting a low carbon, high-growth economy, several of our small bilateral projects have had a "Green Theme". We financially supported a tree-planting programme in Banteay Mancheay and Battambong provinces in collaboration with the Crystal Martin garment factory and Ockenden.
In Kampong Speu province we financed a solar power and biomass fuel system at an eco-village province providing clean electricity and gas for the villagers. And in Kampong Chhnang and Ratanakkiri provinces, we worked with the Cambodian Institute for Cooperation and Peace to convene workshops on Human Security and Land Rights in Cambodia involving all stakeholders.
The British Embassy is also assisting the Royal Government of Cambodia in developing its submission in Paris in December to the Conference of Parties of the United Nations Framework Convention on Climate Change (UNFCCC) - Cambodia's contribution towards improving the global environmental situation.
Our assistance will enable the government to identify the most effective ways for Cambodia to avoid the risk of environmental degradation as well as how to adapt to future changes in the environment and climate. Once identified, we will assist Cambodia in planning and implementing effective policies to balance environmental protection and economic development.
We have continued our support this year for the long-term task of demining Cambodia and made further contributions to the ECCC. In February we brought a UK parliamentary expert to work on capacity building in the National Assembly.
As a member state of the European Union, the UK continues to make a significant contribution to Cambodia's development across a broad range of sectors, including governance, education, agriculture, the judiciary, human rights and environmental protection.
To follow our work on a regular basis please join our other 140,000+ followers on our Facebook page, UK in Cambodia, and on our Twitter accounts: @ukincambodia, @wjlonghurst and @bryonymathew.
Bill Longhurst is the British ambassador to the Kingdom of Cambodia.
Published 12 June 2015