Online vehicle services get a makeover
DVLA is testing changes to some of its online vehicle services.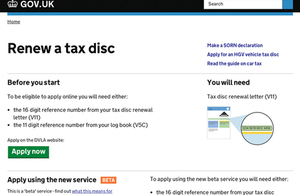 DVLA will test changes to its online Vehicle Tax, Statutory Off-Road Notification (SORN) and Vehicle Enquiry services with customers.
The changes, which customers will see from today, Thursday 20 February 2014, bring these DVLA services in line with GDS standards for digital services.
The changes affect how the services appear on screen and have been designed to make it much easier for customers to understand and navigate through the services. The changes will allow DVLA to make future changes to the service more quickly.
Customers have the option to choose either the current version, or a new BETA version. The BETA version will eventually replace the current version later this year. Customer feedback provided on the BETA screens will be used to make further improvements to the services.
For vehicle tax, there are no differences in the levels of service between the two versions, although initially the BETA version won't be able to accept American Express cards. An upgrade will be created as soon as possible to enable American Express to be used on the BETA version. Until then, if you wish to pay using an American Express card you can continue to do so using the current version.
Published 20 February 2014