News story
Online advice service launched to thwart mobile phone thieves
A new online advice service to help people protect their mobile phone handsets from thieves has gone live today (Monday 24 March).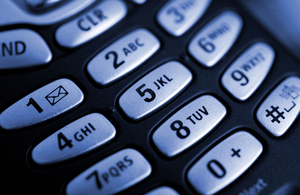 Advice has been published on Police.uk with the support of major phone manufacturers Apple, Blackberry, LG, Samsung, Sony, Nokia and Windows Phones.
The service encourages the public to make more use of their phone's security features, including innovations such as tracking, wiping data from or locking stolen handsets remotely using another internet-enabled device. The service also provides links to information on each manufacturer's security features, including how to switch them on.
There are also tips on avoiding mobile phone theft in the first place, such as taking extra care to keep handsets secure in busy locations and never leaving a mobile phone unattended.
In 2012/13 there were 742,000 victims of mobile phone theft in England and Wales. 16 to 24-year-olds are the most likely age group to be the target of 'theft from the person' offences.
Crime Prevention Minister Norman Baker has held a series of meetings with leaders in the mobile phone manufacturing industry to discuss what more can be done to tackle mobile phone theft.
Mobile phone theft
Crime Prevention Minister Norman Baker said:
Crime is down more than 10% but theft from the person has gone up, bucking the overall trend. It is clear much of this is generated by the theft of mobile phones, iPads and the like. I have challenged the industry to do more to make such thefts unattractive, for example by making it easier to immobilise stolen devices and I am pleased to see that we are now making progress.

One part of this is the online advice service which is a vital new tool that will help people protect their handsets and make would-be thieves think twice.

Mobile phone technology is changing all the time and we need innovative solutions to ensure we get ahead of criminals.
The UK is a world leader in responding to mobile phone crime, with the industry and the police already working together to block stolen phones within 48 hours – stopping them being re-used in this country and making them less valuable.
Published 24 March 2014