One year on and vanguard communities instigate social change
Minister for Decentralisation, Greg Clark, announced today that any citizen who wants to take social action and find community-led solutions…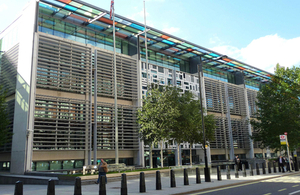 Minister for Decentralisation, Greg Clark, announced today that any citizen who wants to take social action and find community-led solutions to local needs will receive full support from Whitehall in the form of a dedicated barrier busting service.  
On the anniversary of the Prime Minister's launch of Big Society vanguards, Mr Clark was speaking at a 'reporting back' event at the House of Commons to hear the achievements of local communities over the past year, and what Government can learn about the challenges they have faced.
The Prime Minister described the vanguards as 'great training grounds for change'. In each vanguard the local community wanted to take action to improve their area - from devolving budgets to street-level, to developing local transport services, taking over local assets such as a pub, piloting open-source planning, delivering broadband to local communities or generating their own energy - but had been prevented from doing so by barriers. A year on, with a firm commitment from Government to help these communities and a dedicated team of civil servants helping them overcome obstacles or bureaucratic log-jam, many of these ideas have come to fruition.
Three vanguard areas, Eden Valley in Cumbria, the Royal Borough of Windsor and Maidenhead and the London Borough of Sutton, have seen some exemplar community initiatives come to fruition. Some of their recent successes include:
the recent launch in Sutton of a Citizens' University scheme 'The U' - to help people develop skills and confidence to enable them to play a more active role in their community
the laying of the first brick on the community-run Crosby Ravensworth housing development in Eden Valley
the imminent announcement of the consortium that will run a CareBank scheme, a time credit based service that will encourage residents to volunteer or provide mutual support for those with unmet support needs in Windsor and Maidenhead.
Speaking at the Vanguards reporting back event Greg Clark said:
The vanguards have achieved remarkable results in a year and learning from their experience we are inviting every citizen across the country to become a 'vanguard'. We will support them with a dedicated barrier busting service from Whitehall ready to help overcome hurdles.

Local communities in the vanguard areas have clearly demonstrated how with some government support they can develop ideas, find solutions to local issues and have a stronger say in how their local services are delivered. The process of working through barriers - both real and perceived - with these communities has highlighted some issues which continue to inform all our work across Government.
Vanguard leads presenting at the report back event outlined their experiences on facilitating the Whitehall drive to pass more control to local communities.
Cllr David Burbage, Leader of the Council and the vanguard champion for Royal Borough of Windsor and Maidenhead said:
We have been privileged to be a vanguard authority, helping promote and develop the Big Society in our communities. From enhancing transparency, delivering incentive schemes and promoting volunteering in many ways, the impetus from the Prime Minister, the Department for Communities and Local Government, the Cabinet Office and the rest of Whitehall has been valuable in spreading the message.
Rory Stewart MP said:
Eden Valley has proved that barrier busting works. An amazing amount has been achieved in the last twelve months. The passion, commitment and ideas from communities across the Eden Valley are the embodiment of Big Society, which is all about trusting people. It is not an anarchic dream, or a cover for cuts: it is a story of individuals, personalities, charisma. It is about listening to communities, who know more, care more and can do more than distant officials. We want to see other communities across Cumbria and across England benefiting from the real potential of the Big Society, which has been proven with such success right here in the Eden Valley.
Notes to editors
Twitter
Keep up to date with the Department by following us on Twitter (external link).
Media enquiries
Visit our newsroom contacts page for media enquiry contact details.
Published 18 July 2011