One step closer to a single government domain
Plans for a single government web domain moved a step closer today as the Cabinet Office announced the development of a "beta" site.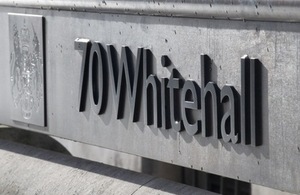 Plans for a single government web domain, which would radically reduce the current bureaucracy surrounding government websites and improve the user experience moved a step closer today as the Cabinet Office announced testing has progressed to the next stage - the development of a "beta" site.
The single domain project was recommended by the UK digital champion, Martha Lane-Fox, in her review of the government's online presence. Her review found that the government publishes "millions of different pages on the web, via hundreds of different websites", ultimately leading to "significant duplication" and an overall user experience that is "highly inconsistent". The move to publish content to a single government domain was one of the key recommendations in her review.
Today's announcement of the "beta" stage follows the initial "alpha" prototype, [alpha.gov.uk](http://webarchive.nationalarchives.gov.uk/20111004104716/http://alpha.gov.uk/, a more simple test that was launched in April and received thousands of comments and visits from the public. The beta stage of development will test a much wider range of features than the alpha stage and will focus on understanding and meeting user needs.
A single government domain would build on the benefits of Direct.gov, the biggest government citizen-facing website with over 30 million visits per month, by offering more features for users and reducing the need for separate departmental websites.
Hosting all of the government's public information in one place would not only make life easier for citizens, it would be more cost effective - saving at least 50% of the £130 million the government spends on maintaining hundreds of individual websites each year.
Minister for the Cabinet Office, Francis Maude, said:
Running over 400 government websites as individual sites just doesn't make sense - least of all economic sense. Martha Lane-Fox was clear in her review that people shouldn't have to wade through the complex structure of Government to find what they need - and today's announcement of the beta release takes us one step closer to a single government domain.

This will not only make it easier for the public to find what they but it will also be better value for taxpayers, as this project could lead to annual savings of £65 million. We have been clear that the days of vanity websites are over - we have radically reduced the number of existing websites and introduced strict rules for those that remain.  We believe that government use of the web must not only be useful, it must be cost-effective.
Public testing of the beta version of the site is expected in early 2012. Final decisions on the future of the project will not be taken until the beta stage of testing is complete.
Notes to editors
Alpha.gov.uk was the first website prototype to be launched immediately into public testing, highlighting the government's commitment to a transparent approach to developing public services - involving taxpayers in deciding how services are delivered and their money spent.
For more information on the single government domain project visit the Government Digital Service blog
Martha Lane Fox conducted a strategic review of Directgov in 2010. Her report to Francis Maude of 14 October said: "Ultimately it makes sense to the user for all Government digital services to reside under a single brand. The user should not have to navigate the departmental structure of government before finding the service or content that they need. On the web, this implies the adoption of a single Internet domain for central government."
Published 11 August 2011