News story
One month until the end of tobacco displays
On 6 April, all large shops in England will need to hide tobacco products from view in a drive to cut the number of smokers and protect young…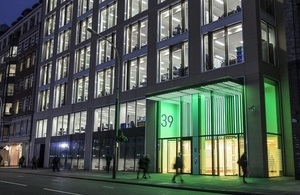 On 6 April, all large shops in England will need to hide tobacco products from view in a drive to cut the number of smokers and protect young people, who are often the target of tobacco promotion.
Sainsbury's, The Co-operative and Waitrose have already been trialling hiding tobacco displays. Other shops have just one month to find out if they are classified as a large shop, to plan how they are going to cover up their tobacco displays and to train their counter staff on the new law.
Ending open cigarette displays will help people trying to quit smoking and help change attitudes and social norms around smoking.
Chief Medical Officer, Professor Dame Sally Davies said:
"More than 8 million people in England still smoke - it is our biggest preventable killer and causes more than 80,000 deaths each year.

"Nearly two-thirds of current and ex-smokers say that they started smoking before they were 18, with 39% saying that they were smoking regularly before the age of 16.

"With only one month to go until large shops need to cover up their tobacco displays, we will soon start protecting children and young people from the unsolicited promotion of tobacco products in shops, helping them to resist the temptation to start smoking. This will also help and support adults who are trying to quit."
Guidance for shops
Large shops are defined as having a relevant floor space of more than 280m², as used in the current Sunday Trading law, which is already familiar to many retailers.
Cigarettes and all tobacco products will need to be hidden from view except when staff are serving customers or carrying out other day-to-day tasks such as restocking.
When serving customers or actively carrying out one of the other tasks allowed, each temporary tobacco display must not exceed 1.5 m².
Guidance on the new law is available on Businesslink or through local authority trading standards departments.
For all other shops, the regulations will need to be implemented from April 2015.
Published 6 March 2012