Press release
One month to go until the end of tobacco displays – are you ready?
Ending open cigarette displays will help people trying to quit smoking and help to change attitudes and social norms around smoking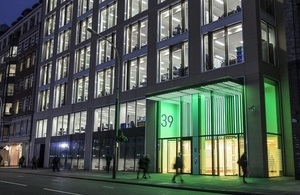 On 6 April 2012, all large shops in England will have to hide tobacco products from view in a drive to cut the number of smokers and protect young people who are often the target of tobacco promotion. 
Sainsbury's, The Co-operative and Waitrose have already been trialling hiding tobacco displays. Other shops have just one month to find out if they are classified as a large shop, to plan how they are going to cover up their tobacco displays and to train their counter staff on the new law.
Cigarettes and all tobacco products will have to be hidden from view except when staff are serving customers or carrying out other day-to-day tasks such as restocking. 
Ending open cigarette displays will also help people trying to quit smoking and help to change attitudes and social norms around smoking.
Chief Medical Officer, Professor Dame Sally Davies said:
"More than eight million people in England still smoke - it is our biggest preventable killer and causes more than 80,000 deaths each year.
"Nearly two-thirds of current and ex-smokers say that they started smoking before they were 18, with thirty-nine per cent saying that they were smoking regularly before the age of 16.
"With only one month to go until large shops need to cover up their tobacco displays, we will soon start protecting children and young people from the unsolicited promotion of tobacco products in shops, helping them to resist the temptation to start smoking. This will also help and support adults who are trying to quit."
Jean King, Cancer Research UK's Director of Tobacco Control said:
"With one month to go before tobacco displays are removed from large shops, we look forward to cigarettes being less visible to children and young people.
"Around 80 per cent of smokers start before they turn 19, so it's vital that cigarettes are not seen as normal, harmless products instead of the deadly and addictive drugs they really are. Preventing young people from starting to smoke is vital and putting tobacco out of sight is a step towards putting them out of mind for the next generation."
Deborah Arnott, Chief Executive of ASH said:
 
"Despite the scare stories put out by the tobacco industry in the past, the countdown to implementation is going smoothly. Indeed many retailers have already covered up their displays and manufacturers are meeting the cost of adapting tobacco gantries with inexpensive covers, just as we said they would. In Canada and Ireland retailers found no short term impact on tobacco sales and no growth in smuggling. There's no reason why it should be any different here."
Large shops are defined as having a relevant floor space of more than 280 square metres, as used in the current Sunday Trading law.  When serving customers or actively carrying out one of the other tasks allowed, each temporary tobacco display must not exceed 1.5 square metres. Guidance on the new law is available on Businesslink or through local authority trading standards departments.
Retailers wanting to find out more about the end of tobacco displays can contact their local authority trading standards for more information.
ENDS
Notes to Editors:
For media enquiries, please contact the Department of Health news desk on 020 7210 5221. Members of the public should call 020 7210 4850.
The tobacco display provisions in the Health Act 2009 and related regulations will be implemented for large shops from April 2012 and for all other shops from April 2015.
The regulations will commence on 6 April 2012 for large shops - those with a relevant floor area of more than 280 square metres.  This is based on the definition in the current Sunday Trading law which is already familiar to many retailers.
Retailers with any queries about how the law will operate should approach their local authority trading standards department.
Guidance has been written by the Local Government Regulatory Support Unit with the Department of Health and in consultation with the British Retail Consortium and the Association of Convenience Stores.  The guidance is available on Businesslink.
The Government reviewed the need for legislation ending tobacco displays and believes the proposed way forward represents a fair balance between advancing public health and supporting businesses (particularly small retailers) during these challenging times. 
Healthy Lives, Healthy People: A Tobacco Control Plan for England is available via the Department of Health website.
Published 6 March 2012