News story
'One-in, two-out': Government to go further and faster to reduce burdens on business and help Britain compete in the global race
From January 2013, every new regulation that imposes a new financial burden on firms must be offset by reductions in red tape that will save…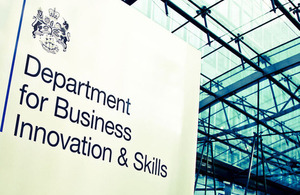 From January 2013, every new regulation that imposes a new financial burden on firms must be offset by reductions in red tape that will save double those costs.
The new 'One-in, Two-out' rule will be imposed across every Whitehall department from January 2013, and will apply to all domestic regulation affecting businesses and voluntary organisations.
It will replace 'One-in, One-out', which requires the costs of every new regulation to be matched by savings of an equivalent amount. This policy has already reduced net costs on business by almost £1bn since January 2011 helping to make government leaner, fitter and more focused on what businesses need, enabling them to get ahead and compete in the global economy.
Michael Fallon said:
"The government is focused on making sure Britain competes and thrives in the global race by helping fire up our private sector and boost enterprise. 'One-in, One-out' has driven a profound culture change across government. Departments are starting to see legislation as a last resort, not the default option.
"But every year businessmen and women still spend too much time and money complying with government regulations, when they should be developing and growing their businesses. We are impatient for growth and I'm determined to remove this brake on aspiration.
"That's why we are upping the pace. Our new target will require radical thinking right across Whitehall. It will require policymakers to make tough choices, and to think hard about how to get government off the backs of hard-working and hard-pressed businesses".
Simon Walker, Director General of the Institute of Directors, said:
"I congratulate the Business department on their move to lighten the heavy load of regulation for British firms. Business leaders tell us that the amount and complexity of the red tape they have to deal with often makes taking on new staff or extra orders just too risky. We simply cannot afford this to continue if we are to rebuild the economy based on healthy growth in the private sector.
"This reform shows that Vince Cable and Michael Fallon know that standing still on regulation is not enough. Removing twice the burden when a new rule is introduced will help companies expand and create jobs."
Since January 2011, the Government has exceeded its 'One-in, One-out' target, introducing almost £4bn of 'outs' compared to just over £3bn of 'ins'. Across Whitehall departments and industry sectors, Ministers have put proposed regulation under particular scrutiny, and found alternatives to regulation wherever possible. Reforms have provided benefits to a wide range of business, for instance by reducing the cost burdens to employers from providing pensions.
Others have more sector-specific impacts. Construction has been helped by the simplification of guidance on building on contaminated land, and by the deregulation of construction contracts to minimise the costs adjudication and regulatory burdens to contractors and sub-contractors.
Other recent reductions in red tape to benefit business have included giving over 100,000 more businesses the flexibility to decide whether or not their company accounts should be audited; removing regulatory burdens and costs from hundreds of venues including pubs and clubs, making it easier to stage live music; and removing legislation that dictates the location and design of no smoking signs in workplaces. A radical package of employment tribunal reforms is expected to deliver £40 million of savings per year to employers, and from April 2013, thousands of businesses will be exempt from proactive health & safety inspections.
'One-in, Two-out', will be a new regime - Government departments' performance under 'One-in, One-out' will not count against the new target. However, overall performance incorporating both rules will be published at the end of this Parliament, enabling a full assessment of the Government's record in reducing costs to business to be made.
The Government will also strengthen comparable commitments to reduce the burden of tax administration. Further details will be provided in the Autumn Statement.
**Notes to Editors
**1. The 'One-in, One-out' rule was introduced on 1 September 2010 and applies to regulations introduced from January 2011. The rule prevents any government department introducing new regulation that will impose a direct net cost on business and voluntary organisations - unless the department can find savings by removing or modifying another regulation of an equivalent cost. 'One-in, Two-out' will also operate in this way - but the removal or modification must be of twice the equivalent cost.
To create the most competitive tax system in the G20

To make the UK the best place in Europe to start, finance and grow a business

To encourage investment and exports as a route to a more balanced economy

To create a more educated workforce that is the most flexible in Europe.
Work is underway across Government to achieve these ambitions, including progress on more than 250 measures as part of the Growth Review. Developing an Industrial Strategy gives new impetus to this work by providing businesses, investors and the public with more clarity about the long-term direction in which the Government wants the economy to travel.
BIS's online newsroom contains the latest press notices and speeches, as well as video and images for download. It also features an up to date list of BIS press office contacts. See http://www.bis.gov.uk/newsroom for more information.
Notes to Editors
Contact Information
Name BIS Press Office Job Title
Division Department for Business, Innovation & Skills Phone
Fax
Mobile
Email bispress.releases@bis.gsi.gov.uk
Name Oliver Fry Job Title
Division Department for Business, Innovation & Skills Phone 020 7215 5965 Fax
Mobile
Published 19 November 2012