Keeping the forward operating bases supplied in Afghanistan is no easy task, but one that is crucial to the success of the mission. Sharon Kean reports on how combat logistic patrols (CLPs) do their work.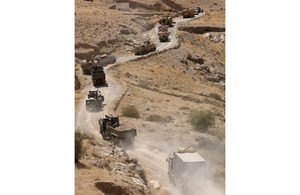 A convoy of military vehicles stuck in the middle of the Afghan desert is a sitting duck - an easy target for the Taliban. So, the lorries and armoured support vehicles that take supplies to soldiers on the front line don't stop, unless it's absolutely necessary:
Troops eat on the go, they pee on the go," said Captain Julie Booton, a reservist attached to 12 Logistic Support Regiment during its current stint in Helmand.
She monitors the convoys and tracks their progress from an operations tent in Camp Bastion:
Even the girls are issued with bottles and 'she-wees' [cardboard funnels]," said Captain Booton.
Some of the female drivers were concerned at first, but we try to put them in cabs together. It's harsh but they get on with it and get used to it.
Private Jessica Cheek is a communications specialist who travels in a Mastiff armoured vehicle as part of the force protection team that guards convoys on their long haul journeys:
There's quite a few of us in there," she said, pointing to the Mastiff's forward cab and compact rear compartment.
Driver, vehicle commander, force protection commander up on the top, an interpreter, someone monitoring updates from other patrols, and myself.
Convoy loads are not limited to ammunition, fuel, food and water, although these must take priority. Just as often the trucks will carry earth-moving vehicles used to build and develop smaller bases across Helmand.
Combat logistic patrols, generally of 50 or more vehicles, leave the main British and US base at Camp Bastion every week or so. They may be gone for a week, and must be self-reliant.
Major Joe Chestnutt is a regular convoy commander:
They can be very long trips - more than 40 hours," he said. "We travel slowly because there are threats all along the routes. We carry out checks, which add time, as do any incidents along the way.
The vehicles tend to begin their trips under cover of darkness, minimising any immediate Taliban threat. However, travelling by night poses its own risk. It is much harder to spot signs on the ground that might indicate an improvised explosive device (IED):
Adrenalin and some good banter with the boys keeps you awake," said Major Chestnutt.
He led one of the biggest convoys ever to leave Camp Bastion, a 217-vehicle patrol with over a 60-hour outbound journey. That combined UK-US operation saw 609 soldiers travel 90km north of Bastion to Musa Qal'ah.
The convoy took earth-moving machinery and power-generating plants to the American Marines who were moving into the area, and brought back British equipment. The round-trip took more than a week:
We can't just use the easiest routes, because that would make us an obvious target," said troop commander Lieutenant Dave Webster.
This means drivers and their vehicles must battle with the harshest aspects of the Afghan landscape - dried-up river beds and steep ascents and descents over rock-strewn tracks.
Desert sand brings its own problems, said Lieutenant Webster. Drivers have to deal with sand being blown up by the wind, making visibility very poor:
The soft desert sand makes manoeuvring very difficult," said Lieutenant Webster. "It makes it hard to see the vehicle in front, and also makes it hard to spot booby traps, even in daylight.
Excitement and even enthusiasm are almost palpable as the soldiers get ready for their night-time departure. The padre blesses every vehicle and hands out sweets. Sometimes (but not tonight) there's a piper at the gates. It all adds to the buzz of anticipation and the vital sense of cameraderie.
A soldier, brandishing two glow sticks, marshalls the enormous armoured trucks out of the camp's main gates. One by one, they leave to a chorus of horns and cheers from those left behind.
Those remaining in camp hone driving skills, maintain vehicles and generally prepare for the next time they must dodge the bullets and IEDs:
The insurgents' home-made bombs have had a massive effect on the way the regiment works," said Captain Booton.
Understanding the threat and learning how to counter it is a huge part of our training. The threat dominates everything we do, from the metal-detecting drills to the way we drive.
It's not uncommon for a convoy to be hit by three or four IEDs during a patrol, and to come under small arms attack between ten and 15 times. Generally, it is the vehicles that are damaged rather than the crews inside," said Captain Guy Mason, one of the officers who helps plan the combat logistic patrols.
Although last time two casualties had to be evacuated by helicopter and flown back to Camp Bastion.
Clearly, the insurgents' objective is to stop such convoys leaving camp at all, isolating the forward operating bases and making it impossible for civilian and military teams to bring development aid to local civilians.
That the juggernauts continue rumbling through the gates and into the Afghan desert is evidence that, so far at least, the insurgency has failed.
This article is taken from the July 2010 edition of Defence Focus - the magazine for everyone in Defence.
Published 8 July 2010