Finishing touches made to Olympic Stadium track as IAAF officials come to town.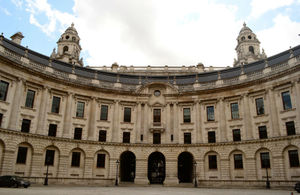 British medal hopefuls for London 2012 were at the Olympic Stadium today as the running track was officially unveiled.
Paralympic gold medallist Dan Greaves, British long jump record holder Chris Tomlinson and IAAF World Championships silver medallist Hannah England were joined by local school children from West Ham Church Primary School in Newham.
Prior to the official unveiling members of the International Association of Athletics Federation (IAAF) Evaluation Commission got to see the venue and track first hand.
The IAAF were in London as part of an inspection visit for the city as it goes head to head with Doha, in Qatar, to stage the 2017 World Athletics Championships. The IAAF will announce the winning city on 11 November.
Sport and Olympics Minister Hugh Robertson said:
This is another piece in the jigsaw for our Olympic Stadium. I am sure that we will see some world records tumble on this track next year and some inspiring performances from the world's best athletes. What a great legacy it would be for the stadium too if the IAAF select London as the host city for the 2017 World Athletics Championships.
The Mondo track, which was laid in August, will provide a fast surface for Olympic and Paralympic athletes during competition in 2012. The same surface has been laid for the 80m warm-up sprint straight under one of the main stands and a 400m training track near the stadium will be laid shortly.
Further information
Published 13 August 2012