Olympic security training continues with military aviation exercise
Royal Air Force and Royal Navy aircraft are in operation over the skies of Yorkshire as part of a major training exercise to prepare for this year's Olympic Games.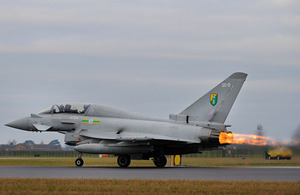 In the latest familiarisation drill, aimed at ensuring the British Armed Forces play an effective supporting role in the police-led security effort, military pilots will practise their skills and drills over a three-day period.
Codenamed Exercise Taurus Mountain 1, and taking place from 24 to 26 January 2012, it will see fast jet and helicopter pilots put through their paces as they practise operating alongside one another. Other military aircraft will also take part in the exercise in supporting roles.
The Secretary of State for Defence, Philip Hammond, said:
People should be reassured by these exercises. Our military personnel are already trained to incredibly high standards but, with these special exercises, are honing their skills yet further to ensure a safe and secure Olympic Games for the UK this year.
Wing Commander Paul Godfrey, in charge of operations at RAF Coningsby, said:
Of course, policing the UK skies is something that the Typhoon Force does 24-hours-a-day, every day of the year, so this week's exercise is business as normal for us.
That said, we take great pride in the fact that we have a key role to play in providing airspace security for the Olympics, and these training flights are part of our training for that important task as we prepare to forward deploy to RAF Northolt later in the year.
Typhoon is a very potent fighter aircraft - among the most modern and capable of any air force anywhere in the world.
I know that the Typhoon Force - many of whom have recently returned from combat operations over Libya - will discharge their duties with great professionalism as part of Defence's overall mission to provide a safe and secure Olympic and Paralympic Games.
The range of aircraft involved in the exercise includes:
two Typhoon jets from RAF Coningsby
two Puma helicopters from RAF Benson
two Lynx helicopters from Royal Naval Air Station (RNAS) Yeovilton
one Sea King Airborne Surveillance and Control helicopter from RNAS Culdrose
two Grob Tutor aircraft from RAF Leeming
one Sentry E-3D aircraft from RAF Waddington.
As announced to Parliament last year, the air security plan for the Olympic Games is multilayered and will see Typhoon aircraft forward-based at London's RAF Northolt, helicopters operating from HMS Ocean on the River Thames, and appropriate ground-based air defence systems across London.
Training carried out already this year includes a Royal Navy and Royal Marines exercise on the Thames, which also involved the Metropolitan Police Service's Marine Policing Unit, the Port of London Authority and the UK Border Agency.
Meanwhile, the RAF has recently had Typhoon pilots operating in London airspace refining their procedures with the National Air Traffic Services.
Published 25 January 2012