Olympic flag flies high at Eland House
Olympic Legacy Minister Bob Neill proudly hoisted the Olympic flag today, outside Eland House, the headquarters of the Department of Communities…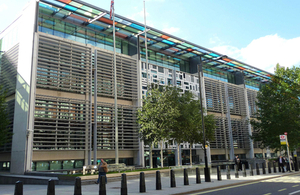 Olympic Legacy Minister Bob Neill proudly hoisted the Olympic flag today, outside Eland House, the headquarters of the Department of Communities and Local Government.
The Olympic flag flying outside Eland House
Today will also see the hallowed rings raised across Whitehall as all Government departments mark the start of the build-up to the Games. The flag will be flown alongside the Union Flag until 20 August when it will then be replaced by the Agitos - the flag of the Paralympics.
The Olympic flag was created by Pierre De Coubertin in 1914. Its five rings symbolise the five inhabited continents of the world, united by the Olympics, and the six colours were those used on all national flags when it was designed.
Mr Neill was joined by competition winner and member of DCLG staff, Robert Segall, who also leads on planning policy issues surrounding flag flying. The Department is currently assessing responses to a discussion paper on relaxing the planning regime on flag flying and allowing people to fly more flags without having to seek and pay for planning consent from their local authority.
Bob Neill said:
It is an honour to raise the Olympic flag over DCLG today. All Government Departments are doing this today and I am very pleased to show our support and demonstrate DCLG's commitment to making these Games a success.
Robert Segall said:
I feel privileged to play this small part in the Olympic programme. It is a special feeling to have a hands-on role in your own policy area.
Images
All images are available from the DCLG Flickr channel (external link).
Published 20 July 2012