Olympic canoe slalom course opened by HRH The Princess Royal
First purpose built 2012 venue open for community use ahead of the Games.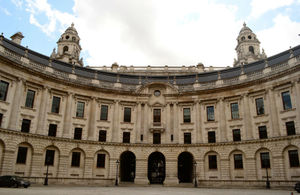 HRH The Princess Royal officially opened the Lee Valley White Water Centre on Thursday 9 December, setting off the first race on the course.
The centre will host the canoeing slalom competitions at the London 2012 Olympic and Paralympic Games and is the first purpose built venue to be completed. Members of the public will be able to use it from spring 2011.
"The Lee Valley White Water Centre is an excellent example of the benefits London 2012 has brought to the UK," said Hugh Robertson at the launch. "The construction of this purpose-built site has created business and employment opportunities, delivering a world-class course offering competition and training venue for elite athletes as well as a valuable community facility."
Venue construction
Construction work on the venue started in July 2009 and there were more than 150 workers on site at the peak of construction activity. Over 150,000 cubic metres of material was put in place to form the canoe course embankments and the venue landscaping - enough to fill the Royal Albert Hall.
The facilities will be joined by extensive new landscaping, plants and wildlife habitats that will help improve the sustainability and ecology of the local area.
Further information
Published 13 August 2012