Press release
Oil and gas strategy will promote billions worth of new investment
An oil and gas strategy to secure billions of pounds of future investment and thousands of jobs will be unveiled by the UK government today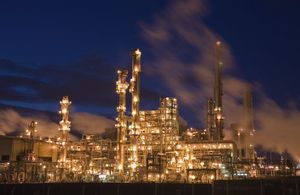 pledge to maintain fiscal regime that encourages investment and innovation
measures to boost supply chains and tackle engineering skills gap
£7 million for new research facility
The Oil and Gas Industrial Strategy: Business and Government Action Plan has been published today to secure billions of pounds of future investment and thousands of jobs.
Tax certainty, supply chain support, and bridging skill gaps will provide continued growth, Business Secretary Vince Cable, Energy Secretary Ed Davey and Scottish Secretary Michael Moore will tell business leaders in Aberdeen.
Developed in partnership with industry, the strategy offers investment confidence and security by setting out a clear path to exploit the UK's remaining resources and overcome an increasingly challenging production environment.
This follows the recent launch of the aerospace and nuclear strategies and is the next step in the government's industrial strategy. Strategies for eleven key sectors will be completed in partnership with business in the coming months to secure sustainable future growth in the economy.
UK oil and gas production is vital for energy security and to the economy, employing over 400,000 people.
The action points and programmes already underway include the following:
maintaining a fiscal regime that encourages investment and innovation in the UK Continental Shelf. This includes guarantees on tax relief for decommissioning as announced by the Treasury in last week's budget
developing the UK supply chain further so that UK supply chain firms can build on the £27 billion of revenues which they already generate in the UK. Fabrication has been identified as one area to target to ensure the UK remains competitive in domestic and international markets
provision of specialist support from UK Trade and Investment (UKTI) to look at how the UK supply chain can increase exports in the sector, building on the increased funding of £140 million announced in the Autumn Statement to help small and medium enterprises (SMEs) export abroad. This is to capitalise on high value opportunities in markets such as Brazil, Mexico, Saudi Arabia and Australia
filling the skills gap, which is seen as one of the biggest challenges facing the oil and gas industry, especially for SMEs. Work is underway to develop and match the skills needed within the industry and see how future or existing programmes can help
Addressing the skills shortage of mid-level career engineers. The industry expects it will require an additional 15,000 staff over the next 4-5 years across a range of disciplines. Government and industry will look at establishing a national programme to retrain ex-military personnel to enable them to be redeployed in the oil and gas industry. Ex-military personnel often have the skills the industry looks for and have successfully transitioned into the sector.
As part of this, £7 million has been given to Newcastle University through the Higher Education Funding Council for England (HEFCE) to establish the Neptune National Centre for Subsea and Offshore Engineering. The Neptune research and development centre will act as a place for industry and academia to interact, providing crucial infrastructure for emerging research opportunities. The Neptune Centre will also have a strong element of developing highly skilled graduates to help address key skill shortages.
Encouraging more technological advancement through research and development, which will enable industry to better understand complex reservoirs, reduce drilling costs, improve efficiency and enhance production.
Raising the profile of Britain's growing oil and gas sector, to foster innovation and attract the best talent, including the imminent launch of an Oil & Gas UK campaign to raise awareness among the general public.
Developing work between the financial services' sector and industry to address challenges of access to finance. The government's 'business bank' will help small and mid-sized businesses access finance including by communicating existing schemes.
Vince Cable and Ed Davey will also open a new facility at Expro, an offshore and technology services specialist in Aberdeen. To meet increasing business demand, the company has created more than 150 new jobs in the UK over the past year.
Ahead of the strategy launch, Business Secretary Vince Cable said:
The oil and gas industrial strategy is the start of a real plan of action owned by industry and government. It is a strategy that all sides are committed to, so that future decades of investment and growth can be maintained in the North Sea.
An important part of this strategy is how we can develop the UK supply chain. I want us to consider what barriers are stopping British companies bidding for and winning work in the North Sea.
This is an expanding industry. We can either help create more jobs and opportunities across the UK if we get this right. Or see work going overseas if not.
Vince Cable will also visit Shell and Global Energy, a specialist fabricator of bespoke energy equipment. The Business Secretary will learn more about Shell's recent major acquisitions in the North Sea Oil as well as the role that Shell and Global Energy can play in helping the UK supply chain to compete more effectively with suppliers elsewhere in the world.
Energy and Climate Change Secretary Edward Davey said:
Even as we move to a low carbon economy, oil and gas will remain an integral part of the UK energy mix for decades to come.
The UK's oil and gas industry is a vital strategic resource that helps fulfil our energy needs and insulates us from volatile global markets. By partnering with industry to support oil and gas investment offshore and onshore, the Coalition government aims to boost growth and enhance the UK's energy security.
With our support for carbon, capture and storage, for decommissioning and by encouraging increased collaboration across different energy sectors, especially offshore, there will also be new sustainable growth opportunities for the industry and the wider UK supply chain.
So this strategy we are launching today will make sure we harness the natural resources available in a way that is both sustainable and profitable, for the industry, for the country and for the planet.
Scottish Secretary Michael Moore said:
Aberdeen boasts one of the finest oil and gas supply chains in the world. From the academic research that helps to ensure that Aberdeen remains at the heart of new technologies, to manufacture and servicing of machinery that supports this industry. We've made sure that this strategy encompasses the whole industry – to make sure we identify the measures that will benefit business, large, medium or small.
The UK government is firmly committed to using our global influence to help companies exploit opportunities and break down trade barriers. Safeguarding jobs and stimulating growth for the oil and gas supply chain in Aberdeen and rest of the UK. This strategy is about building on these success stories and exploiting other areas of expertise to ensure that we can continue to promote our industry at home and export our expertise around the world. When government works with industry, when we combine our efforts, we can achieve the very best for this sector.
Last month trade body Oil & Gas UK said firms were planning investments totaling around £100 billion on the United Kingdom Continental Shelf (UKCS). It is expected to rise to a record £14 billion in 2013, from £11.4 billion in 2012.
Malcolm Webb, Oil & Gas UK's chief executive said:
Close engagement with the UK government and the resulting tax changes introduced last year to promote investment in the oil and gas sector are now bearing fruit. Record investment is forecast this year to search for and produce UK oil and gas reserves. This will be followed by an upturn in production from 2014, sustaining growth across the supply chain and reinforcing the industry's already significant contribution to the UK economy.
The launch of the government's strategy for the sector is one more step in the right direction and brings deserved recognition to the capabilities of our world class supply chain.
The strategy fosters strong and meaningful collaboration between the government and industry and will help to focus efforts on addressing particular areas such as skills, technology and exports. It will further strengthen the oilfield services sector across the country, boost investor confidence, safeguard jobs and help to maximise recovery of Britain's oil and gas reserves.
While the launch will be in Aberdeen, Business Minister Michael Fallon will be visiting GE Oil and Gas in Newcastle - an oil and gas flexible pipeline specialist – to see how it will implement its Regional Growth Fund award.
The company was awarded £3 million through the Regional Growth Fund to increase its manufacturing capability and build on its leading offshore research role for liquefied natural gas market. This will create over 120 new jobs and safeguard over 80 existing posts.
Above all the strategy's goal is to put government and industry on the right path to ensure future decades of investment and production in the North Sea. It seeks to maximise economic recovery of oil and gas from the UK Continental Shelf and support a dynamic supply chain which sustains high quality jobs in the UK.
Notes to Editors
1.The Oil and Gas sector strategy is part of three energy strategies; the other two are on nuclear and offshore wind. The proposals in this strategy will involve collaborative working with industry primarily through existing forums such as the Oil and Gas Industry Council and the Fiscal Forum. Work will continue closely with the Scottish government.
2.The government is committed to a proactive and long-term strategy which will focus on delivering economic growth and prosperity. The aim is to set a consistent, long-term approach to establishing partnerships with business, and focuses on three broad areas: advanced manufacturing, knowledge intensive traded services and enabling sectors.
3.The Oil and Gas sector is a vital part of the UK economy. It is the single largest industrial investor in the UK and contributes more to the Exchequer than any other sector (£11.5 billion in 2012 – over one fifth of the UK total). It employs over 400,000 people (including the wider supply chain).
4.Oil & Gas UK is the leading representative organisation for the UK offshore oil and gas industry. Its members, who number over 330, are companies licensed by the government to explore for and produce oil and gas in UK waters and those in the industry's supply chain. For more information including requests for interviews with Oil & Gas UK, please contact Lucy Gordon on lgordon@oilandgasuk.co.uk or 01224 577331.
5.The government's economic policy objective is to achieve 'strong, sustainable and balanced growth that is more evenly shared across the country and between industries'. It set four ambitions in the 'Plan for Growth' (PDF 1.7MB), published at Budget 2011:
to create the most competitive tax system in the G20
to make the UK the best place in Europe to start, finance and grow a business
to encourage investment and exports as a route to a more balanced economy
to create a more educated workforce that is the most flexible in Europe.
Work is underway across government to achieve these ambitions, including progress on more than 250 measures as part of the Growth Review. Developing an Industrial Strategy gives new impetus to this work by providing businesses, investors and the public with more clarity about the long-term direction in which the government wants the economy to travel.
Published 28 March 2013