Ofsted's children's services annual rating process to end
Tim Loughton explains the decision to end the Ofsted annual rating process as soon as legislation can be passed.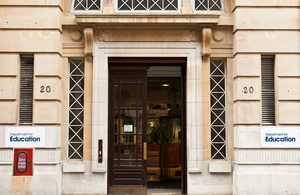 In a letter to Ofsted, the Association of Directors of Children's Services, the Local Government Association (LGA), and Solace, Children's Minister Tim Loughton today outlined the decision to end the annual rating process as soon as a suitable legislative opportunity can be identified.
Across local authorities there has been a common concern that in its current form the annual ratings adds little understanding of children's services in an area over and above the individual inspections that underlie it, and are not particularly helpful in aiding improvement.
The decision is also in line with wider changes to local authority accountability arrangements across Government and the termination of the Comprehensive Area Assessment.
The department will work with Ofsted in the meantime to ensure the rating process is as simple and transparent as possible and does not create unnecessary burdens for local areas.
The department is working alongside Ofsted to consider potential changes to aspects of the wider children's services inspection framework, in line with the drive for greater local accountability and freedoms. This needs to be informed by any relevant findings and recommendations from the review of child protection currently being conducted by Professor Eileen Munro and the review of early years by Dame Clare Tickell. We hope to be able to announce decisions on these changes during the first half of next year.
Further information
Ofsted carries out a review every year of the overall performance of each local authority in England as regards the delivery of children's services. It then awards each authority a performance rating in respect of the matters reviewed. This duty is set out in the Education and Inspections Act 2006. LA inspections of safeguarding and looked after children are carried out every three years unless there are particular concerns about performance.
The annual rating provides a simple summary of the outcomes of the inspections of services and settings carried out by Ofsted during the year and an analysis of the performance data related to that authority. Ratings are awarded on a four-point scale:
(1) performs poorly
(2) performs adequately
(3) performs well
(4) performs excellently.
The 2010 ratings are:
performs excellently - 20 local authorities (compared to 10 in 2009)
performing well - 77 (93 in 2009)
performing adequately - 37 (40 in 2009)
performing poorly - 12 (9 in 2009).
Six local authorities have yet to receive their annual rating, as Ofsted is awaiting the outcome of inspections of safeguarding and looked after children services in these authorities.
The Government has already announced the termination of the Comprehensive Area Assessment (CAA), of which the Ofsted annual rating previously formed part.
DfE enquiries
Central newsdesk - for journalists 020 7783 8300
General enquiries - for members of the public 0370 000 2288
Published 9 December 2010