News story
Ofqual launches further consultation on reformed qualifications for 2017
This is the next tranche of GCSE, AS and A level subjects for first teaching in September 2017.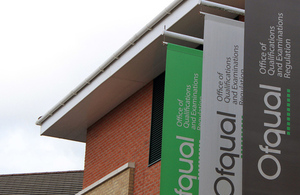 Ofqual is today (3 November) launching a consultation on the design and assessment of some of the new GCSE and A level subjects.
The new GCSE subjects are;
Physical education (short course only)
The new AS and A Level subjects are;
We would like to know your views on our proposals for the assessment arrangements and assessment objectives for these new qualifications and on whether they should be tiered.
The closing date for responses is 4 January 2016.
Following this consultation and in light of the responses we receive, we will make decisions on our regulatory expectations for the design and assessment of these qualifications. We will then consult on the technical regulatory requirements that exam boards wishing to design, deliver and award the qualifications must meet.
Exam boards will then develop new qualifications in the subjects listed above ready for teaching by schools and colleges from September 2017.
The Department for Education (DfE) will consult at the same time as Ofqual on the proposed subject content.
Published 3 November 2015