News story
Ocean Prefect report published
Groundings made by a UK registered bulk carrier in Umm Al Qaywayn, United Arab Emirates.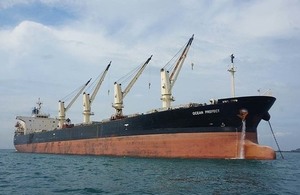 The MAIB report on the two separate groundings made by Ocean Prefect while approaching Ahmed Bin Rashid Port on 10 and 11 June 2017 is now published. The second grounding resulted in a breach of the ballast tanks which required the vessel to dry dock in Dubai for repair. There were no injuries or pollution.
The report contains details of what happened and subsequent actions, read more.
Press enquiries
Press enquiries during office hours 01932 440015
Press enquiries out of hours 020 7944 4292
Published 27 April 2018