Nurseries 'must do more' to give children the best start in life
Minister Sam Gyimah has called on nurseries to take action after statistics show not enough children are making good progress.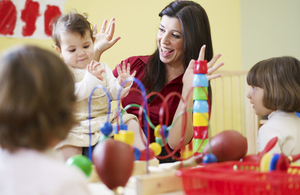 Nurseries and other child carers must do more to help toddlers learn, Childcare and Education Minister Sam Gyimah has said, after statistics published today (16 October 2014) show too few young children are ready for school.
The statistics show that overall 60% of children aged 5 are making good progress against the early years foundation stage profile (EYFSP). However, the gap between those from the most disadvantaged areas and their peers has remained static at 12%.
The EYFSP is designed to ensure that all children are prepared and ready for school and life in modern Britain. It measures things like how children play together through to being able to count to 10 and write their own name.
Childcare and Education Minister Sam Gyimah said:
Ensuring parents have access to affordable, flexible and high-quality early years provision is a key part of our plan for education.

We know the first few years of a child's life can be make or break in terms of how well they go on to do at school and beyond. The statistics published today clearly show that some progress is being made but more must be done to ensure children, especially those from disadvantaged backgrounds, are put on the right path.

Parents need to be confident that while their children are out of their care they're not only safe, happy and having fun but at the same time developing important skills like playing confidently with their friends, speaking, and understanding words, letters and numbers.

The government has provided new funding through the early years pupil premium and strengthened qualifications to raise standards. It's now up to those who support our children to ensure they get the start in life they deserve - something parents and I both want to see.
The EYFSP statistics also show:
53% of children in the most deprived areas achieved a good level of development compared with 65% of their peers
66% of children achieved at least the expected level of development in literacy and 72% in mathematics
girls continue to outperform boys with 69% of girls achieving a good level of development compared with 52% of boys - particularly in writing
The government has introduced a number of initiatives to ensure that those who care for our children have extra support to help. These include:
introducing the early years pupil premium - giving providers additional funding to provide specialist high-quality support for some of the most disadvantaged children
ensuring all early years teachers must now meet rigorous new standards and pass the same skills tests as trainee school teachers
changing the rules so that all early years educators who are responsible for leading nurseries and educating and caring for young children will be required to have at least a C in GCSE English and maths. From August 2015, they will have to achieve these minimum grades before they even start their course
making up to £5 million of new funding available to encourage local areas to explore ways of improving their early years practice ahead of the introduction of the early years pupil premium in April 2015
The Effective Pre-School, Primary and Secondary (EPPSE) research published recently, highlighted the benefit of high-quality early education. It showed that children who go to pre-school are projected to earn £27,000 more during their career than those who don't. They are also more likely to get better GCSE results - the equivalent of getting 7 Bs compared to 7 Cs.
The research also found that early education helped young people to specifically do better in GCSE English and maths. The effects were better if the pre-school was of high quality, and pre-school is particularly valuable for children from less advantaged backgrounds.
Chief Executive of the Professional Association for Childcare and Early Years (PACEY) Liz Bayram said:
All children - especially our most disadvantaged young children - deserve high-quality, playful early learning, and PACEY welcomes the minister's recognition that early learning happens whilst children are having fun.

We also welcome his acknowledgment that helping young children to develop essential social and emotional skills such as talking, listening to and playing with others is as important as understanding letters and numbers. Childcare professionals share his goal that more needs to be done to close the attainment gap for disadvantaged children.

Year on year, Ofsted grades demonstrate the sector's capacity to continuously improve. We are looking forward to working with the Department for Education and other sector organisations to ensure all providers are supported to further improve. In particular, PACEY is keen to help set out how the 2-year-old offer and early years pupil premium can support settings to invest more in quality improvement so all their practitioners are supported to focus on helping children reach their full potential.
Director of Early Years at Bright Horizons Family Solutions Nicola Amies said:
Pleased today to hear the new minister's call to see even more progress for children in the early years as we believe all children can benefit from high-quality care and early education.

Many providers have a great deal of expertise and commitment in providing the very best experiences for babies and children, and there is much to be gained by the collective sharing of wise practice across the sector.

All providers want the best for the children in their care. We understand the value of continuous quality improvement with strong, inspirational leadership that embeds a culture of critical reflection and ongoing professional development for staff, and that sets high expectations for children's experiences and progress.

Collaborative working across the sector can make a significant impact on the journey we are all on to give young children the best foundations for success in life.
Background
The new EYFSP was introduced in September 2012 and is completed by teachers for all children in the summer term of their reception year at school. There is no test - assessment is based on teacher observations throughout the year. Teachers make a best-fit assessment of whether children are emerging, expected or exceeded against 17 early learning goals. Children are deemed to have a good level of development in the new profile if they achieve the expected level in the prime areas of personal, social and emotional development, physical development and communication and language, and the specific areas of and literacy and mathematics.

Information about the EPPSE research is available on GOV.UK.
DfE enquiries
Central newsdesk - for journalists 020 7783 8300
General enquiries - for members of the public 0370 000 2288
Published 16 October 2014