Number 10 statement: "End is near for Qadhafi"
The UK Government has called on Libyan leader Colonel Muammar Qadhafi to stand down to save his people from further suffering.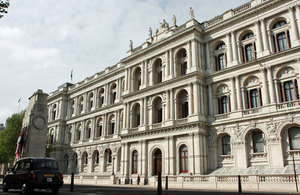 A statement from Downing Street on 21 August said:
"It is clear from the scenes we are witnessing in Tripoli that the end is near for Qadhafi.
"He has committed appalling crimes against the people of Libya and he must go now to avoid any further suffering for his own people."
On Friday 19 August, Prime Minister David Cameron welcomed the newly appointed Libyan charge d'affaires to Downing Street where he underlined his "optimism" for Libya's democratic future.
Published 21 August 2011