Number 10 staff curate new art exhibition
Get a glimpse behind the scenes of 10 Downing Street.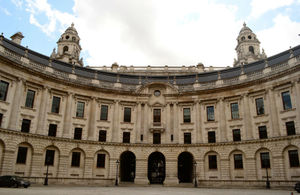 A portrait of Lord Byron's daughter and a series of humorous videos featuring ladders and doors are among the works in the fourth public display from the Government Art Collection (GAC).
The latest part of the GAC exhibition at the Whitechapel Gallery features works chosen by non-political members of staff at Downing Street, as well as archive material related to the collection.
From personal assistants to IT managers, a group of staff picked their favourites from the paintings and sculptures they work around every day, many of which are now being shown for the first time in a public gallery.
Government Art Collection: Selected by Downing Street Staff, which is free for members of the public to view, runs until 10 June 2012. It is the fourth in a series of five displays and follows a selection by historian Simon Schama and a colourful display chosen by artist Cornelia Parker.
The Story of the Government Art Collection, which includes rare documents and previously-unseen records, runs until 2 September.
Further information
Published 12 March 2012