Press release
Now lifesaving British aid reaches remote islands
Vitally needed aid supplies and medical assistance from the UK is arriving in remote areas in the Philippines that aid agencies have so far not been able to reach.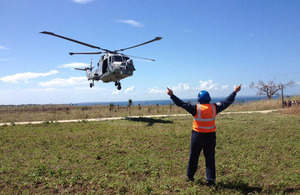 See latest photographs of British aid arriving today on Guintacan Island here: http://bit.ly/17xqlfL and download the high resolution images here: http://bit.ly/I0YnxN. Credit: Simon Davis/DFID.
Having arrived in the Philippines yesterday, British warship HMS Daring sailed overnight to reach Guintacan Island at 6.30am this morning (local time).
A Lynx helicopter from HMS Daring is now transporting UK humanitarian experts, medical teams and supplies to remote islands, including Guintacan Island. The crew has already distributed two hundred shelter kits, two hundred high energy biscuits and repaired a school roof.
UK medics transported to the island by the ship's helicopter have also held two outreach clinics to provide medical care and advice. Another team of UK medical experts has already arrived in Tacloban and is working alongside local and international teams there to provide medical assistance.
International Development Secretary Justine Greening said:
The Typhoon was so devastating that people in these remote areas have been completely cut off. Now British aid is getting through and will save lives. This is a great example of Britain at its best, with the Royal Navy and the Department for International Development working together to deliver aid and expertise where it is needed.

HMS Daring's arrival provides a major boost to ongoing efforts to get aid to as many people in need of help as possible and more assistance to affected communities will be delivered over the coming days.

The British people have shown huge generosity over the past days and DFID is working with charities to make sure all their donations get to those who need it most.
Latest updates on the UK response to Typhoon Haiyan
General media queries
Follow the DFID Media office on Twitter - @DFID_Press
Notes to editors
HMS Daring's Lynx helicopter has already surveyed Panay and other islands near Cebu.
The UK has deployed 12 emergency British medical staff, including surgeons, doctors and A&E nurses to assist with recovery efforts in the Philippines.
Published 18 November 2013